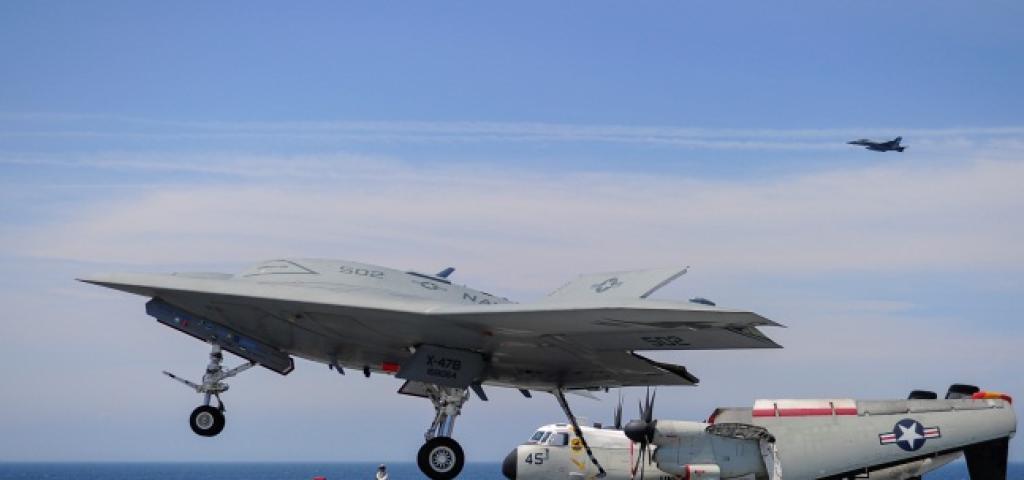 U.S. Navy, Northrop Grumman & X-47B Team Receive Aviation's Highest Honor
Congratulations to the U.S. Navy, Northrop Grumman, and the X-47B Industry Team for winning the prestigious Robert J. Collier Trophy.
The 2013 Collier Trophy was formally presented on May 29th to the U.S. Navy, Northrop Grumman, and the X-47B Industry Team at the annual Robert J. Collier Trophy Dinner in Arlington.  The Robert J. Collier Trophy is awarded annually "for the greatest achievement in aeronautics or astronautics in America, with respect to improving the performance, efficiency, and safety of air or space vehicles, the value of which has been thoroughly demonstrated by actual use during the preceding year.
The Wind River team celebrates the achievement of the Robert J. Collier Trophy. Pictured from left Chuck Gault, Deane Marfone, Pat Niesen, Jeff Steinley, Tom Glennon, and Jim Douglas.
Wind River is one of the key suppliers on the Joint Industry Team for the X-47B program.
"The X-47B program is the product of extraordinary vision and relentless execution. The Navy and our entire industry team have been formidable partners in developing an aircraft that many thought impossible."   Carl Johnson, Vice President of Northrop Grumman's UCAS organization.
In 2013, the X-47B UCAS program made history by being the first tailless, unmanned aircraft to land on and take off from an aircraft carrier.  To date, the X-47B has completed eight catapult launches off a carrier, 30 touch-and-goes, and seven arrested landings.  Later this year, the X-47B will return to sea for more testing aboard an aircraft carrier.
This is not the first significant recognition of the X-47B UCAS program.  Earlier this year, Aviation Week, the industry's largest information and services provider, recognized the X-47B UCAS Program with the Laureate Award for "extraordinary achievements" in Aeronautics and Propulsion.
Photo courtesy of Northrop Grumman
The team also received the Popular Mechanics Breakthrough Award – Showcased as one of 10 Innovators Who Changed the World in 2013: Navy's Smartest Jet
These are extraordinary achievements and we are proud that our VxWorks real-time operating system is a key technology for this aircraft.  VxWorks serves as the software platform for the UCAS program.  Built on VxWorks, Northrop Grumman engineers were able to rapidly create, deploy and maintain the safety-critical control system.  For more, watch the video.
The U.S. Navy and Northrop Grumman X-47B Team join several past Robert J. Collier Trophy recipients, such as NASA their Jet Propulsion Laboratory (NASA/JPL) –  a Wind River customer using VxWorks as the foundation for the Mars Curiosity rover's central computing system.