Meet industry safety and certification requirements faster and within budget with Wind River.
Wind River® technology has been powering the safest, most secure devices in the world for more than 40 years, at the highest criticality levels and in the toughest environments. Rely on our software and expertise to save your team time, better utilize valuable resources, and develop and innovate with confidence.
Solid Foundation of Industry Knowledge
Wind River Professional Services engineers have experience with ISO 26262, DO-178C, EN 50128, IEC 62304, and IEC 61508 certification standards and how they apply to software platforms starting from the development stage.
Safety and Certification Assessments
Experts work collaboratively with your software platform design and program teams to interpret system requirements, architect platform system options, and provide recommendations to meet business, technical, and program goals.
Platform Customization and Component Certification
Professional Services engineers modify or extend the functionality of the RTOS code from an existing VxWorks® release, for which there is already certification evidence, and generate new certification evidence documentation for the additional functionality.
BSP Certification
Board support package (BSP) software also needs to be certified in safety-critical applications. We can create the certification evidence necessary to include your BSP with the certification evidence of the rest of your product.
Maintenance for Legacy Platforms
We work with industries that have very long product lifecycles, some that are measured in decades. Our services team can provide support and maintenance services for legacy or end-of-life products to ensure business continuity.
Safety Standards & Certifications Supported by Wind River Studio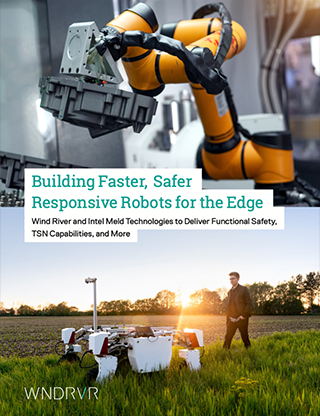 Building Faster, Safer, Responsive Robots for the Edge
Learn how Wind River and Intel® have melded technologies to delivery functional safety, Time-Sensitive Networking (TSN) capabilities, and more.
Read More

»