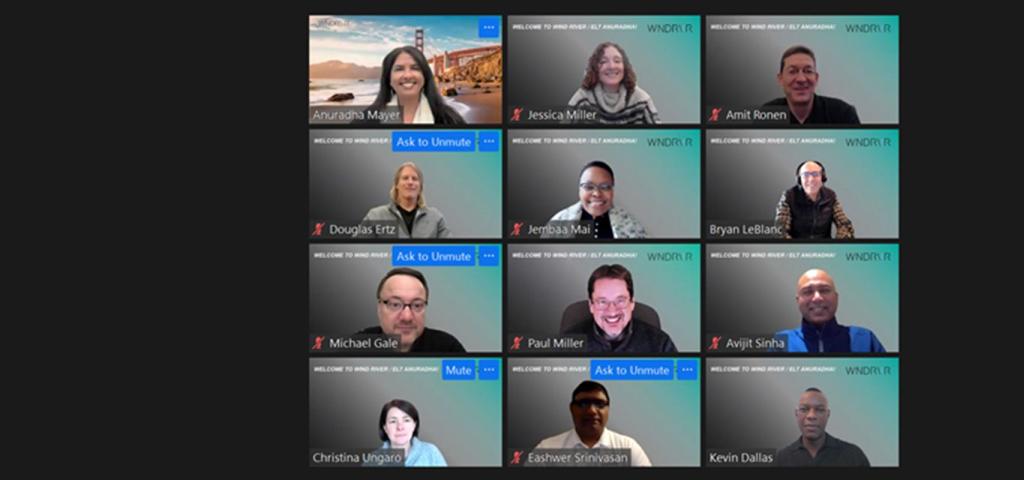 Onboarding Journey at Wind River
It was an exciting moment when I accepted the job offer to be the Chief People Officer at Wind River. I knew this was a company I wanted to be a part of early on. It all started with my interview experience, which was engaging, robust, and transparent. Before making my decision, I read every Glassdoor review and was impressed by a 4.6 (out of 5) rating and a 97% CEO approval rating.
Onboarding Experience
When I accepted the offer, I wanted to experience the Wind River onboarding process firsthand. I had heard from current employees that it was well-orchestrated and a best-in-class experience.  Research by Brandon Hall Group stated that companies with an effective onboarding process see productivity gains of over 70% and increased retention of new hires by 82%. And given my team was leading this process, I was curious about the approach and what made it a positive experience for new hires. Now over 60 days into this role, I reflect on my onboarding experience with admiration, gratitude, and a huge smile. There were a few elements that stood out.
The day the job offer was sent, my manager, CEO Kevin Dallas, sent me a thoughtful email about the significant opportunity in front of Wind River in the Intelligent Edge space. And he wrote about the impact I could have in this role and cited my capabilities. This was not a template; this note was authentic and personal.  It made me feel like I was already a part of Wind River.
The People Team at Wind River was getting a new leader and they were curious and understandably a little anxious about what this person would be like. I was so appreciative to have the chance to meet the team before my first day. Those meetings were invaluable in making connections and beginning to build positive relationships without the distraction of work tasks.
The week before starting, I got an onboarding plan, an orientation plan, a welcome gift, and my laptop. Starting a new role in hybrid is a different experience and requires thoughtful onboarding sequencing by the company. Before my first day, I knew exactly where I needed to be and what to prepare. Between the orientation by the People and IT teams, I was up and running on the basics by 10 am on my first day.
That first couple weeks in a new job can be intense with a high learning curve -everything from figuring out acronyms to jumping into key initiatives already in flight. Within a few weeks, I announced to the entire company about our Self-Care week that was coming up. It was an absolute pleasure to announce that everyone globally had an opportunity to take a day off and attend an insightful learning session with relevant topics such as resilience. I had to be thoughtful about how to communicate effectively. I was experiencing what I had heard about Wind River's culture - people are collaborative, and the environment is supportive. Jessica Miller (VP, Corporate Communications and Chief of Staff) was my official 'buddy' and was always there to guide me in navigating those initial situations.
The onboarding process continued with several sessions spaced out over the first six weeks. They were called Ignite, which is a great visual for onboarding. There were highly interactive virtual sessions dedicated to our strategy, products, culture, and people practices leveraging things like breakout sessions on Zoom. And there was also self-paced learning on the new hire website.
One of the best and most welcoming moments during my first week was logging onto the Zoom call for my first Executive Leadership Team (ELT) meeting and seeing everyone with a special Zoom background that said, "Welcome Anuradha to Wind River/ELT," experiencing hearty welcomes, and a round of applause. I mean, does it get any better than that?! These are truly moments that matter!