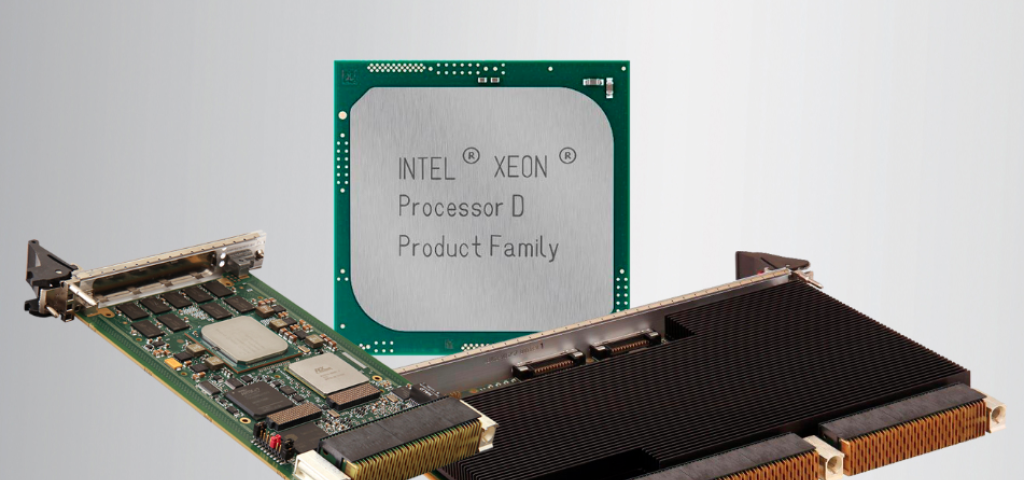 New Performance Breakthrough for VxWorks-based HPEC Systems
For years, designers of High Performance Embedded Computing (HPEC) systems have sought to free up critical resources and establish optimal performance for Intelligence, Surveillance and Reconnaissance (ISR) applications.  Today, system designers can take full advantage of the Intel® Xeon® D processor architecture for their multi-core/multi-board HPEC systems using VxWorks®.
The Wind River® VxWorks Board Support Package (BSP) for the Intel Xeon D processor-based CHAMP™-XDx modules is now the first to provide support for the QuickData Technology DMA engine and 40 Gigabit Ethernet (GbE) Mellanox® Ethernet Controller, a performance breakthrough in design of High Performance Embedded Computing systems for ISR applications, from Curtiss-Wright.
This unique, high-value design is based on the Wind River VxWorks real-time operating system (RTOS).  New software drivers included in Curtiss-Wright's latest BSP are used in harmony with Curtiss-Wright's CHAMP-XDx DSP modules.  This design enables VxWorks to access the Intel Xeon D processor's QuickData Technology DMA engine, a feature once limited to Linux users.  Delivering peak performance, this solution also offers 40 GbE on Curtiss-Wright's Fabric40™ CHAMP-XD1 3U OpenVPX™ and CHAMP-XD2 6U OpenVPX DSP modules rated at ~37 Gbps, near line-rate, now freeing the multi-core processor from dedicating critical resources to communications handling.
Advances in Design
For advances in design with Wind River VxWorks BSP, the CHAMP-XD1 and CHAMP-XD2 features:
CHAMP-XD1 Digital Signal Processor
Extended operating temperature Intel eTEMP SKUs
PCH integrated in Xeon D SoC
Native dual KR 10 GigE ports
16 to 32 GB DDR4 @ 2133 megatransfers per second (34 GB/s aggregate)
XMC PCIe up to Gen3, designed for up to 25W thermal dissipation
PCIe Gen3 on 3U OpenVPX data plane with switch
Core Function FPGA with IPMI
Conduction and air-cooled
CHAMP-XD2 Digital Signal Processor
Dual processor Xeon D 8-core D-1539 (820 GFLOPS @ 1.6 GHz total) or 12-core D-1559 (1152 GFLOPS @ 1.5 GHz total)
Extended operating temperature Intel eTEMP SKUs
PCH integrated in Xeon D SoC
Four ports of 40G/10G Ethernet or DDR/QDR/FDR10 InfiniBand on OpenVPX data plane
Native dual KX 1 GigE or KR 10 GigE ports on OpenVPX control plane
16 to 32 GB DDR4 @ 2133 megatransfers per second per Xeon D socket (68 GB/s aggregate)
XMC PCIe up to Gen 3, designed for up to 25W thermal dissipation
Dual x16 PCIe Gen 3 on OpenVPX expansion plane with switch
Core Function FPGA with IPMI
Conduction and air-cooled, contact Curtiss-Wright for Air-Flow Through (AFT) options
To learn more read the Press Release from Curtiss-Wright: Curtiss-Wright Delivers Performance Breakthrough for VxWorks-based HPEC Systems with Support for Intel® Xeon® D processor DMA Engine with 40 GbE