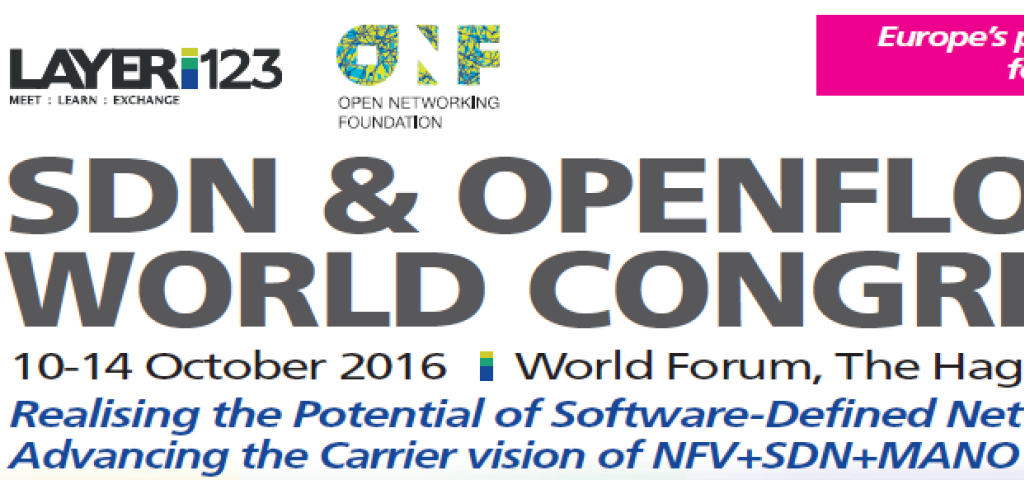 Multi-Vendor Interoperability Demonstrates Compliance with Open Standards for NFV
This week, service providers, vendors and analysts from around the world will gather in The Netherlands to attend SDN and OpenFlow World Congress, which is taking place in The Hague this time.
Happy Birthday NFV
Those of us that attended this same event back in October 2012, when it was located in Darmstadt, Germany, will remember that as the venue when the Network Functions Virtualization (NFV)  initiative was first announced following months of discussions between been several leading service providers.
So we can view this week as NFV's fourth birthday.  Undoubtedly, one of the key discussion topics at this year's event will be the level of progress that the telecom industry has made in its adoption of NFV.
In this post, we'll take a brief look at one of the key challenges that our industry has faced over the past four years, namely how to ensure the multi-vendor interoperability that is so important to service providers as they look to avoid vendor lock-in and accelerate their deployment of new services. At Wind River, we've built up a lot of expertise in this area and we'll share some key learnings from working on projects with a wide range of partners.
Open Standards Avoid Vendor Lock-In
When the NFV initiative first started, the ETSI organization assumed the responsibility for developing the open standards that would define the complete software architecture at multiple levels. ETSI continues to do a tremendous amount of invaluable work and, more recently, the Open Platform for NFV (OPNFV) project has made good progress in releasing open-source implementations of the NFV Infrastructure (NFVI) layer.
From the service providers' perspective, open standards mitigate the risk of vendor lock-on by encouraging the development of compatible and interoperable products by multiple companies.
A multi-vendor approach allows service providers to leverage the best available solutions at each level of the architecture, rather than being constrained by monolithic single-vendor products. They can rapidly adopt new or better solutions as soon as they become available, avoiding the limitations imposed by long release cycles for proprietary, vertically integrated products. This results in new business opportunities for innovative software companies and indeed the telecom market is now open to companies with pure software expertise rather than restricted to vendors who can offer integrated hardware-plus-software solutions.
While all these business advantages encourage service providers to incorporate products from more than one vendor in the complete solution that they deploy, they need proof that products that should work together seamlessly actually do so. For vendors like Wind River, ensuring compatibility with open standards means more than designing our products to meet the ETSI standards: it's also critical for us to demonstrate interoperability with other companies in the NFV ecosystem.
Titanium Cloud Brings Interoperable Solutions
At Wind River, this compelling need for interoperability was a key element of our strategy as we introduced the original Titanium Server network virtualization platform back in 2014, when NFV was still a toddler, and as we followed up with Titanium Server CPE earlier this year.
Despite the compelling advantages that Titanium Server provides in terms of service uptime, operational cost reductions and performance, we recognized that service providers would deploy it as an element of a complete, end-to-end solution for a specific use case. We knew that they would expect seamless interoperability and compatibility between all the individual elements of that solution.
So in 2014 we also launched the Titanium Cloud ecosystem, through which we work closely with our partners at an engineering level to make sure that their products work correctly with Titanium Server.
Besides ensuring interoperability, our experts also ensure that our partners leverage whatever Titanium Server optimizations are appropriate to ensure maximum service uptime and maximum performance.
Reflecting the end-to-end NFV architecture outlined by ETSI, we determined that the Titanium Cloud ecosystem should comprise four categories of partners. With Titanium Server as the baseline NVF Infrastructure (NFVI) software platform, we would validate partner products in the categories of OSS/BSS solutions, service orchestrators, Virtual Network Functions (VNFs) and hardware infrastructure.
The growth of the Titanium Cloud ecosystem reflects the importance of proven, multi-vendor solutions to the decisions that service providers are making.
When we launched Titanium Cloud, we did so with five founder members of the ecosystem, who shared our vision of the importance of such collaboration. By the time of SDN and OpenFlow Congress one year ago, in October 2015, the program already had 23 member companies. Today, we're proud that 37 companies have joined with us to ensure that we can work together to provide validated end-to-end solutions that accelerate our customers' NFV deployments while minimizing their schedule risk.
In just the past few days, companies like Advantech, Lanner, RIFT.io, Silver Peak and Versa Networks have all announced their participation in Titanium Cloud. We welcome them as new partners and look forward to collaborating with them to provide service providers with additional examples of proven end-to-end solutions and leading-edge applications.
No Short Cuts To Interoperability
At first glance, the task of validating interoperability between individual vendors' products looks straightforward. If you believe some of the first PowerPoint presentations espousing the overall NFV architecture, then all we have to do is develop our products in compliance with a stable set of well-documented, comprehensive APIs and we can have high confidence that everything will work together seamlessly.
Of course, that's not how the world of software works.
In the case of the ETSI architecture, the standards documents don't fully define many of the interfaces. The API specifications are not interpreted consistently by vendors and are still subject to change. The complexity of the architecture means that vendors frequently have conflicting assumptions that lead to contention for key control points, such as OpenStack Neutron plug-ins. In most cases, comprehensive test frameworks not yet available, though the OPNFV project is doing promising work in this area.
Finally, since we're talking about a software architecture here, there are dependencies on specific revisions of drivers, kernels and other subsystems, with millions of combinations leading to inevitable issues whenever a single element is updated. There's no way to guarantee interoperability or compatibility by design.
Given the nascent stage of the NFV industry and relative immaturity of most vendors' products, the only sensible approach to guaranteeing interoperability at this point is a case-by-case validation of the product combinations that service providers will deploy.
Call In The Experts
The validation process is a fundamental benefit that the Titanium Cloud brings to Wind River, to our partners and to the customers deploying multi-vendor solutions. So we don't take any shortcuts and we focus on ensuring high-quality results that will genuinely accelerate our customers' own testing and deployment cycles.
We've learned that partner product validations are complex technical programs that require engineering commitments on both sides. In our case, we have a technical team that's dedicated to this task and that has now amassed a wealth of experience through working with partners that span all four categories of our ecosystem.
There are no substitutes for comprehensive test plans, detailed documentation and rigorous reports that capture the results of validations. While these collaterals are obviously essential to us and to our partners, we've found that they're also of great interest to our mutual customers, who inevitably want to know exactly what we mean when we tell them that a specific product has been validated with Titanium Server.
We've also discovered an unexpected benefit of all this validation testing: in many cases, our partners are excellent beta sites for us. Often, the nature of their testing means that they're stressing Titanium Server harder, earlier and in different ways than our direct customers. They're fully leveraging the features and performance optimizations that we provide, so that they can deliver the best possible results from their own applications, orchestrators or hardware platforms.
During the Intel Network Builders Summit that precedes this week's SDN and OpenFlow World Congress, my colleague Jeff Gowan described these validation challenges and solutions in detail during a presentation titled "Titanium Cloud: Better Together." For anyone unable to attend Jeff's talk, it's well worth downloading the slides for an interesting read on this topic.
Looking Ahead
Over the two years since we launched Titanium Cloud, we've demonstrated that an ecosystem based around the comprehensive validation of partner products delivers massive business benefits for us, for our partners and for our mutual customers. With service providers looking for proven end-to-end solutions rather than point products, Titanium Cloud accelerates their NFV deployments and minimizes their schedule risk.
The number of industry-leading hardware and software companies participating in this ecosystem shows that they also realize the benefits of this kind of cooperation. We're very grateful for all the hard work that's being done by our current partners and we look forward to collaborating with additional companies in the future.