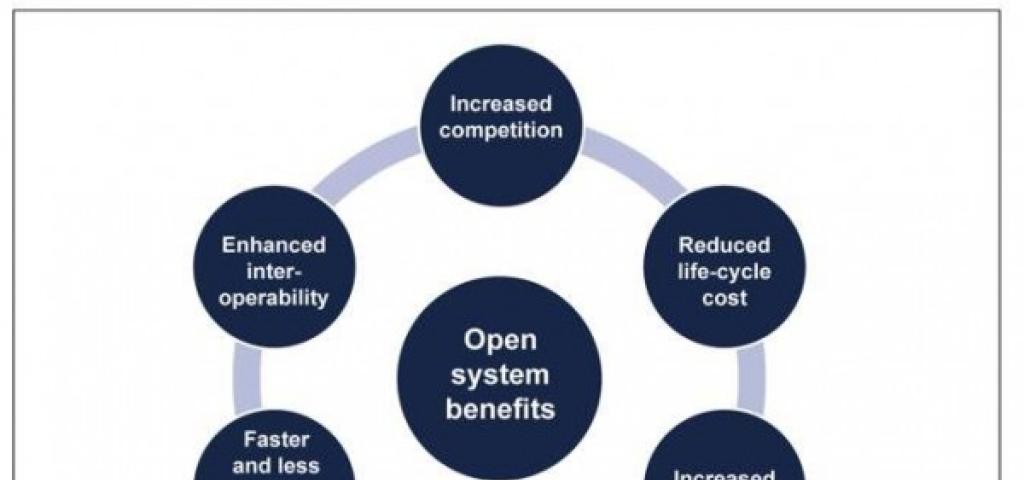 GAO Open Systems Report for DOD
There have been some very healthy discussions recently around the GAO-13-651 report, titled, "DOD Efforts to Adopt Open Systems for Its Unmanned Aircraft Systems Have Progressed Slowly" to the Subcommittee on Tactical Air and Land Forces, Committee on Armed Services, US House of Representatives.  It's quite an interesting read, but here are a few excerpts from the report on open systems architecture.
What is an open systems approach?
An open systems approach (OSA), which includes a modular design and standard interfaces, allows components of a product (like a computer) to be replaced easily. This allows the product to be refreshed with new, improved components made by a variety of suppliers. Designing weapons as open systems offers significant repair, upgrade, and competition benefits that could translate to millions of dollars in savings as the weapons age.
Fundamental elements of an open systems approach include:
Designing a system with modular components that isolate functionality. This makes the system easier to develop, maintain, and modify because components can be changed without majorly impacting the remainder of the system.
Developing and using open, publicly-available standards for the key interfaces, or connections, between the components. Interface standards specify the physical, power, data, and/or other connections between components.   All interfaces in a system do not need to use open standards for a system to be considered "open," and it can be costly and impractical to manage hundreds or thousands of interfaces within a system.  Rather, open standards should be identified at key interfaces between the modules that are likely to change, may frequently fail or need to be replaced, or are needed for interoperability.
Obtaining data rights to interfaces when open standards are not available. DOD describes the acquisition of technical data, such as design drawings, specifications, and standards, as critical to enabling the department opportunities for competition for modification and sustainment of weapon systems throughout their life cycles.
What are some examples of open systems in non-military environments?
Many consumer products, including U.S. appliances and smartphones, are considered to be open systems because they use widely-available hardware and software standards at key interfaces.
For example, U.S. appliances are designed to use a particular wall socket standard, so that they can plug into any power outlet without consumers needing to worry about which brand product is compatible in their homes. Similarly, headphone jacks use a common, open standard, which enables consumers to purchase headphones made by different manufacturers, and plug them into many types of devices, including their MP3 players, cell phones, and stereos, which may be built by other manufacturers.
In addition, the Android™ operating system, used on smartphones, allows individual software applications introduced by third-party developers to connect to the Android operating system through an open software interface. This allows customers to have a lot of choices and helps keep prices low.
What are some of the recommendations of this report?
The following recommendations were made to the Secretary of Defense to improve the DOD's implementation of an open systems approach for UAS and other weapon acquisition programs, as well as its visibility of open systems implementation and program office expertise.
Direct the Secretaries of the Air Force and Army to implement their open systems policies by including an open systems approach in their acquisition strategies.
Direct the Under Secretary of Defense for Acquisition, Technology and Logistics to define appropriate metrics to track programs' implementation of an open systems approach.
Direct the Secretaries of the Air Force, Army, and Navy to require their acquisition programs to include open systems metrics developed by the Under Secretary of Defense for Acquisition, Technology and Logistics in their systems engineering plans, track progress in meeting these metrics, and report their progress to the Under Secretary of Defense for Acquisition, Technology and Logistics at key acquisition milestones.
Direct the Secretaries of the Air Force, Army, and Navy to assess their respective service-level and program office capabilities relating to an open systems approach and work with the Deputy Assistant Secretary of Defense for Systems Engineering to develop short-term and long-term strategies to address any capability gaps identified.
For the complete text please reference:  http://www.gao.gov/assets/660/656419.pdf.  To learn more about Wind River's technology leadership in unmanned systems visit http://www.windriver.com/unmanned/.
Stay tuned for my next post where I discuss the business side of open systems architecture.