In a digital-centric world, a diverse work force offers a full spectrum of ways to think, work together, and solve challenges that gives us a competitive advantage for our global customers.
Statement from Kevin Dallas,
President and CEO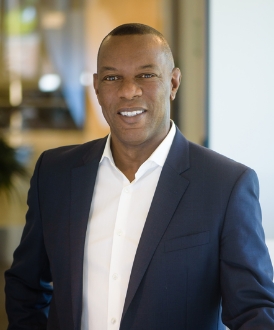 Kevin Dallas
President and CEO
We are experiencing a transformational time, in the workplace and in society, that demands agile thinking, new combinations of skills and experiences, a higher level of collaboration, and a growth mindset culture. We know that a heterogeneous workforce benefits all of us: Inclusive and diverse teams produce original ideas, increase creativity, and are more productive. Drawing strength from our differences leads to an engaging employee experience for our people and innovative breakthroughs for our customers. It is at the heart of what we do.
The Wind River commitment to diversity and inclusion is a priority and a strategic imperative, crucial to capturing the opportunities that matter most to our employees, to our customers, to our communities, and to me personally. And I am proud to say that our people at every level of the company are taking ownership for creating an inclusive and varied culture.
As an organization, we have made progress toward this goal. Now we're accelerating our efforts to create an even more eclectic and inclusive company with aggressive diversity targets.
These are not just words for Wind River; our aim can only be achieved by bringing forward a truly diverse and inclusive workforce. It is core to our culture and the way we do business, and critical to our future success. I am honored to lead a company that demonstrates care for its people and communities and holds a commitment to diversity and inclusion.
The world is diverse. We will better serve everyone on the planet by representing everyone on the planet.
Realizing Each Whole, Unique Self
Our Commitment
We are open to learning about our biases and changing our behaviors so we can tap into the collective power of everyone at Wind River. We don't just value differences; we seek them out and celebrate them. And as a result, we are each able to bring our authentic and unique self to Wind River.
Our Goal
At Wind River, addressing diversity and inclusion and fostering a culture of belonging—embracing differences in gender, race, and background—will be an accelerating journey over the next three years. We will focus on four key areas:
A growing and heterogeneous talent workforce (more than 50% diverse talent by 2023*)
A culture of belonging that emphasizes fair and equitable practices
A drive toward positive change in communities and among vendors, suppliers, and partners
Metrics that measure progress in each of these areas
*In the U.S., Canada, and parts of the EMEA region
Diversity and Inclusion Panel
Listen to our D&I panel showcasing our amazing and fearless women leaders.
Wind River is currently known for its inclusive culture, and we will continue to ensure that our varied talent base has a voice and is heard.
Our Diverse Talents
We are also committed to building an even more diverse company and developing our talent base of people with eclectic backgrounds and experiences.
Let's hear from some of our diverse talents about their experiences at Wind River — and what makes us an awesome place to work:
Diversity at Wind River
Members of our team share how they're championing diversity and inclusion.
Podcast
People Studio Podcast with our Chief People Officer, Terese Lam
Diversity by the Numbers
We will use data and surveys to track and measure our D&I progress toward best in class, identifying and assessing what we have achieved and what we need to do to further increase diversity at Wind River. Below is a current snapshot.
Gender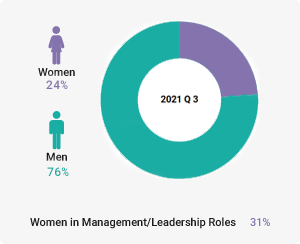 Diversity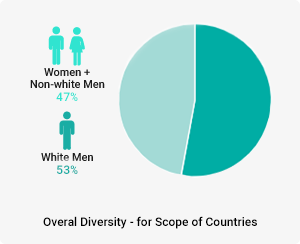 Goal By 2023*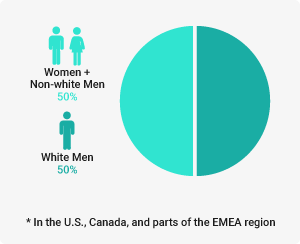 Partnerships
Establishing partnerships and collaborating with companies and associations that are focused on diversity is key to making a positive impact on the broader community, not just within Wind River.

Oakland Promise: We are pleased to partner with Oakland Promise to support its mentorship program and provide internship and graduate opportunities to its diverse student base.
Read the blog
Blacks in Tech: Black people are underrepressented in every technology-related career demographic. We are working with Blacks in Tech to level the playing field through training, education, networking, and mentorship.
Read the blog