Intelligent systems research
Manufacturing
Intelligent systems success in the manufacturing sector comes from a focus on building the foundations over the next three years, not investing separately in backbone infrastructure.

That sense of urgency puts more pressure on getting it right now than for companies in the wider market.
The Need to Act
71% of the focus is on combining infrastructure with foundational elements over the next three years. Only one in six currently have this formula right.
Only 11% of industrial manufacturing companies already see themselves as intelligent systems digital business companies, but 55% of the rest are in a strategic drive to get there. Knowing what that success requires will be critical.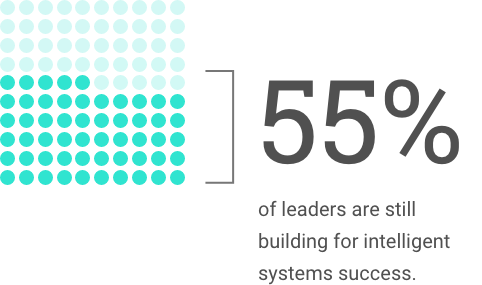 2.7 million robots already work in factories across the globe.1 The industrial and manufacturing sectors are focused now on building the foundational capabilities of intelligent systems, rendered more urgent by the proliferation of mass customization as well as the need to substitute or enhance human labor due to the aftereffects of COVID-19.

Delivering compute on the far edge, predicting stresses, resolving failures, and customizing devices in the cloud — these are all foundational capabilities for success that must be delivered in a single, real-time, collaborative workflow. These essential requirements dominate the focus of 70% of industrial and manufacturing leaders today, even as they are developing ecosystems of applications and using digital feedback loops for new product development.
The longer-term (five-year) vision is to build automated learning and machine learning (AL/ML) capabilities. Manufacturing leaders are looking to a combination of cloud-based device customization, predictive systems management, and the sequencing of necessary workflow processes to create a clear path to practical success. Other capabilities, such as automating complete systems or experimenting to drive learning systems, would be nice to have but are not likely available to them in the near term.

These leaders understand the need to focus on core characteristics that will drive the success of later investments in their intelligent systems, AL/ML, and sensory data and algorithms. For example, they reported that the foundational capability of compute on the far edge is over 10 times more important than being able to run experiments as a learning system.

The main accelerant for increased investment is a combination of three factors: employee satisfaction in working with an intelligent system, evidence of the ability to innovate new products and services, and improved customer satisfaction. These three drivers highlight the need for industrial manufacturing companies to connect all the elements of the new business models inside intelligent systems.
The urgency for intelligent systems in manufacturing starts with the ability to compute on the far edge, but leaders tell us they want to quickly add impactful capabilities around four other intelligent systems characteristics. This sector sees a wide range of capabilities as foundational for success.
What really matters to executives building intelligent systems?
While there are 13 key characteristics of intelligent systems, not all characteristics deliver the same positive impact. Your peers across all sectors told us the far edge is vital for success, especially when 65%+ rely on embedded devices for business success.

These stacks represent the magnitude of impact each intelligent systems characteristic has on such systems. The larger the block, the greater the impact. You can view this data for companies grouped by momentum and success, or by specific industry.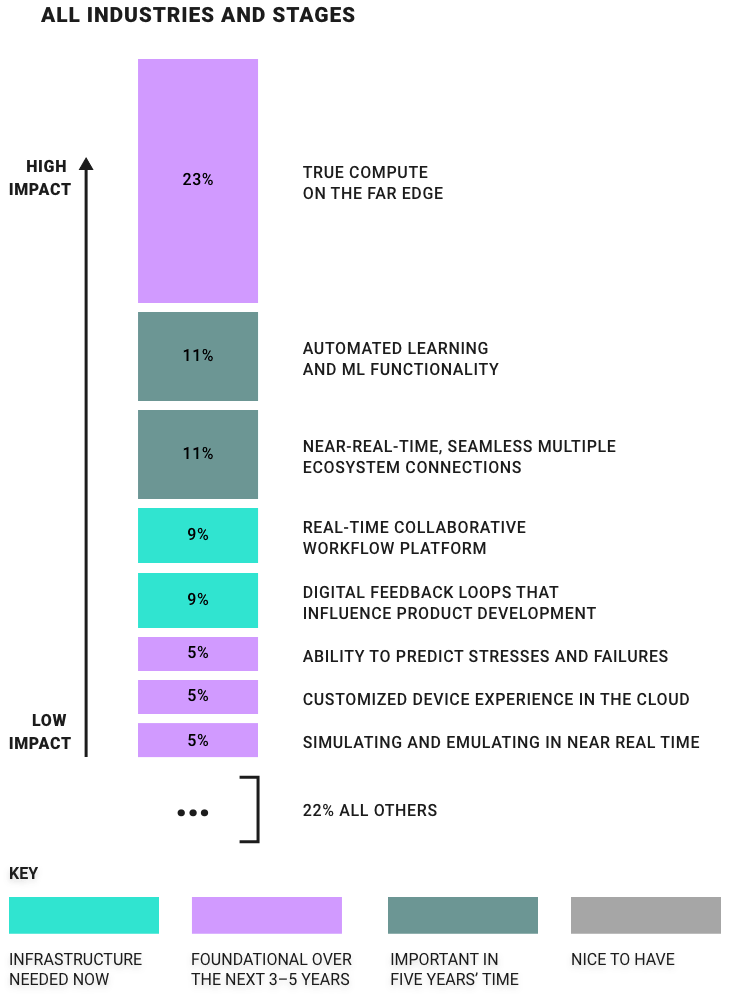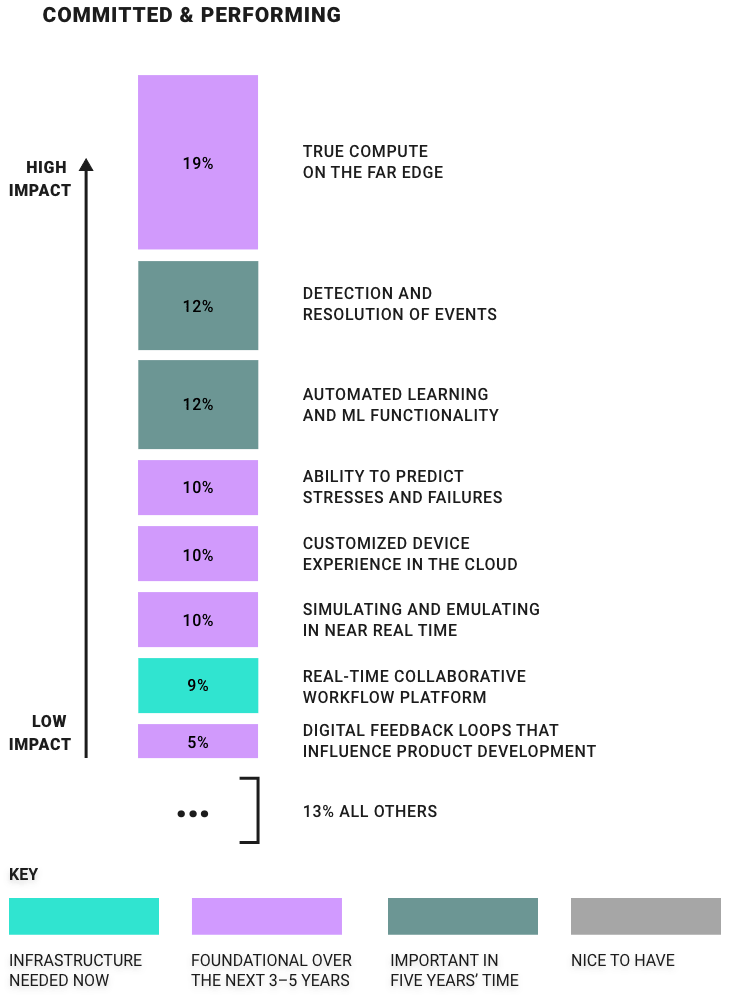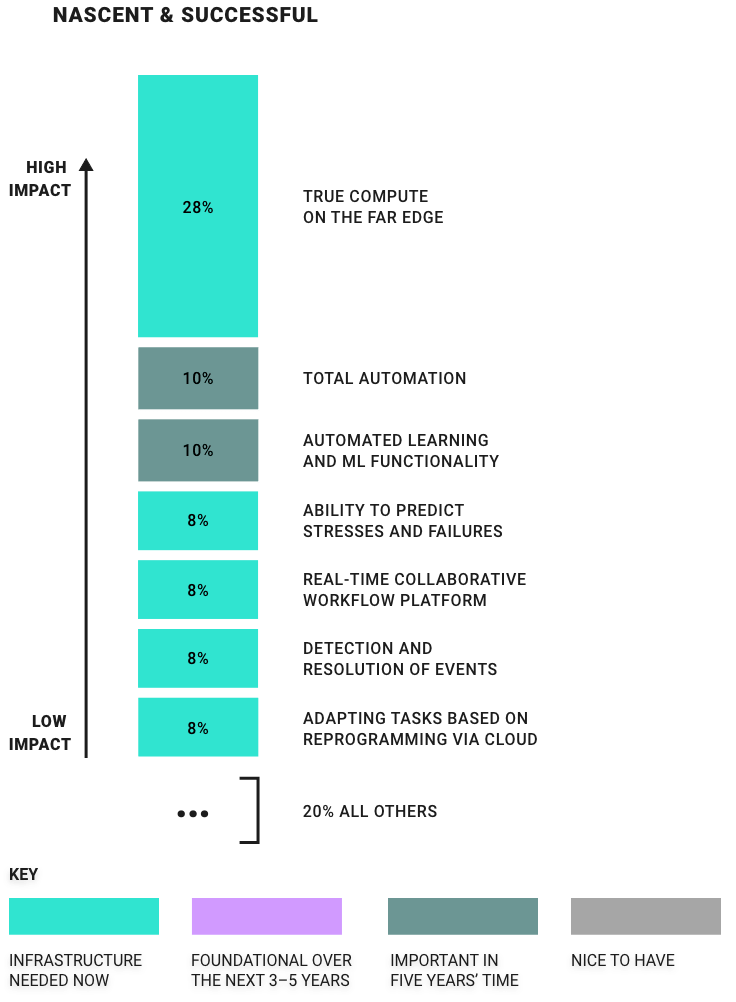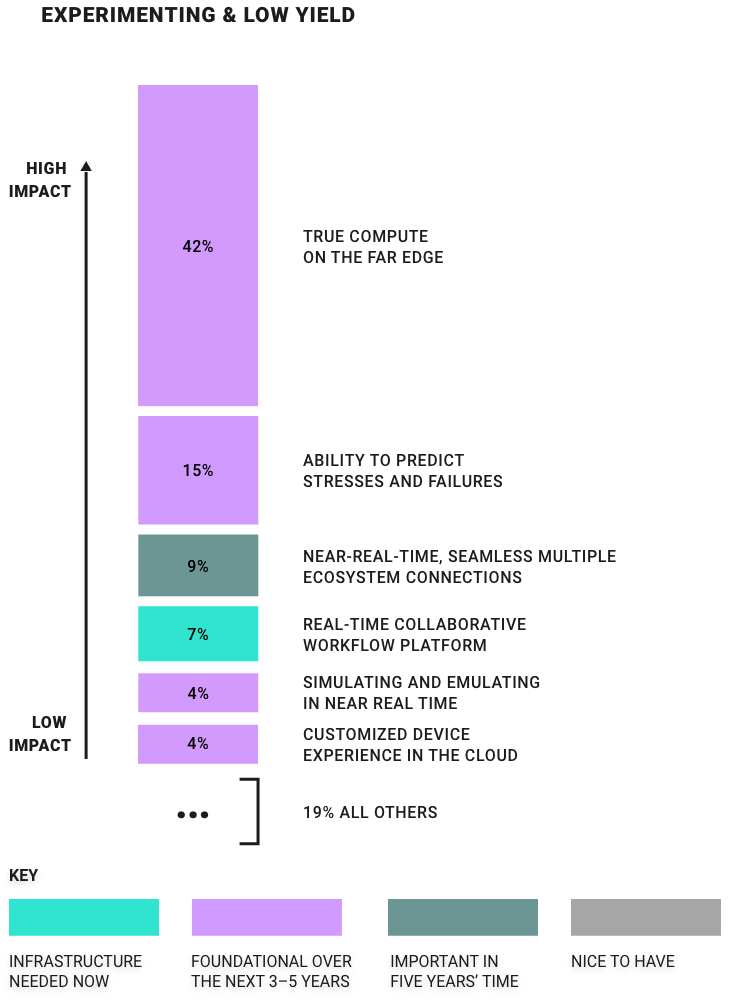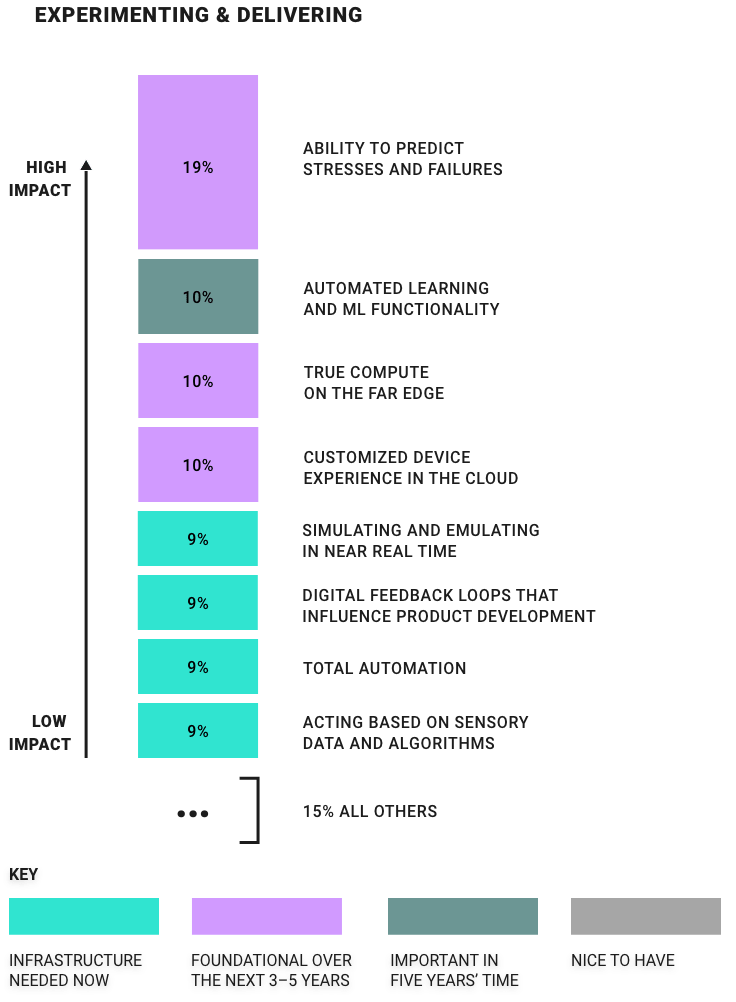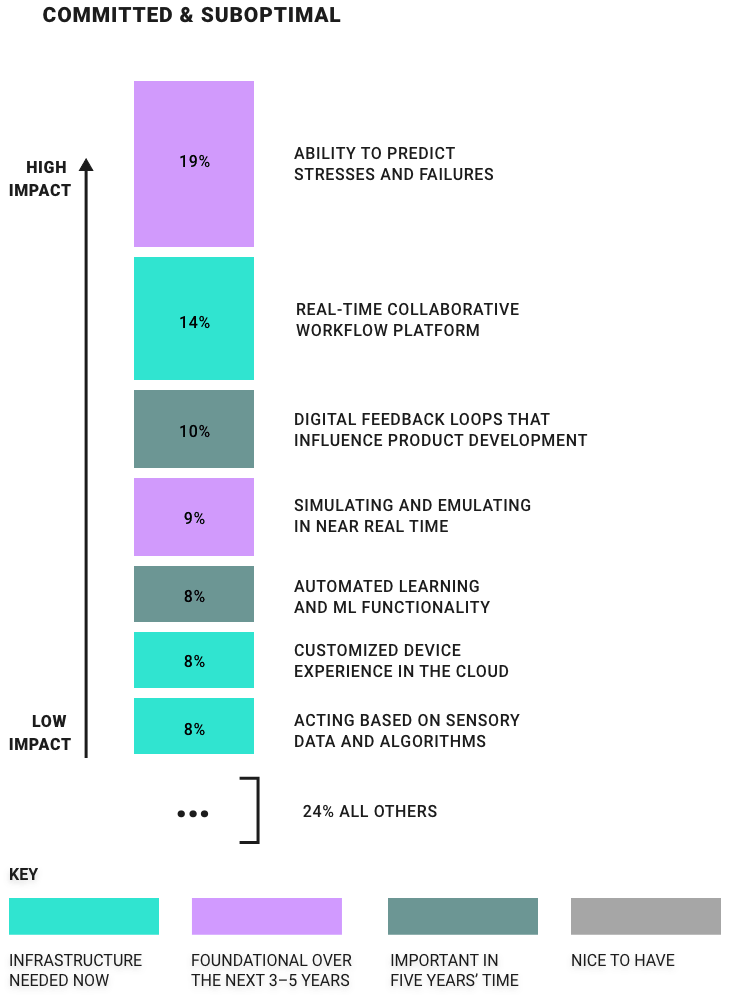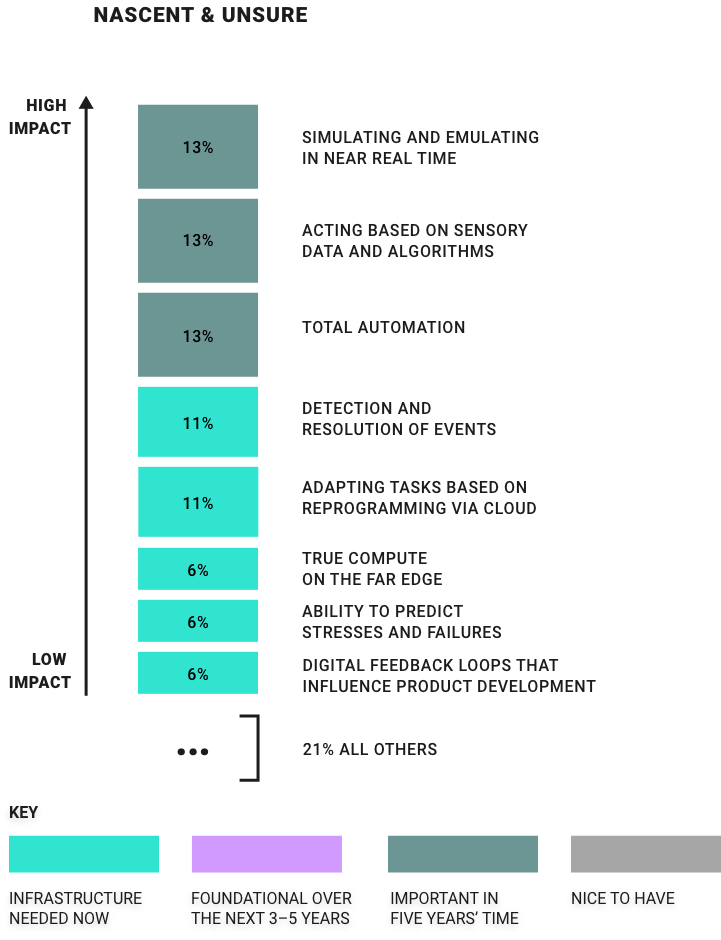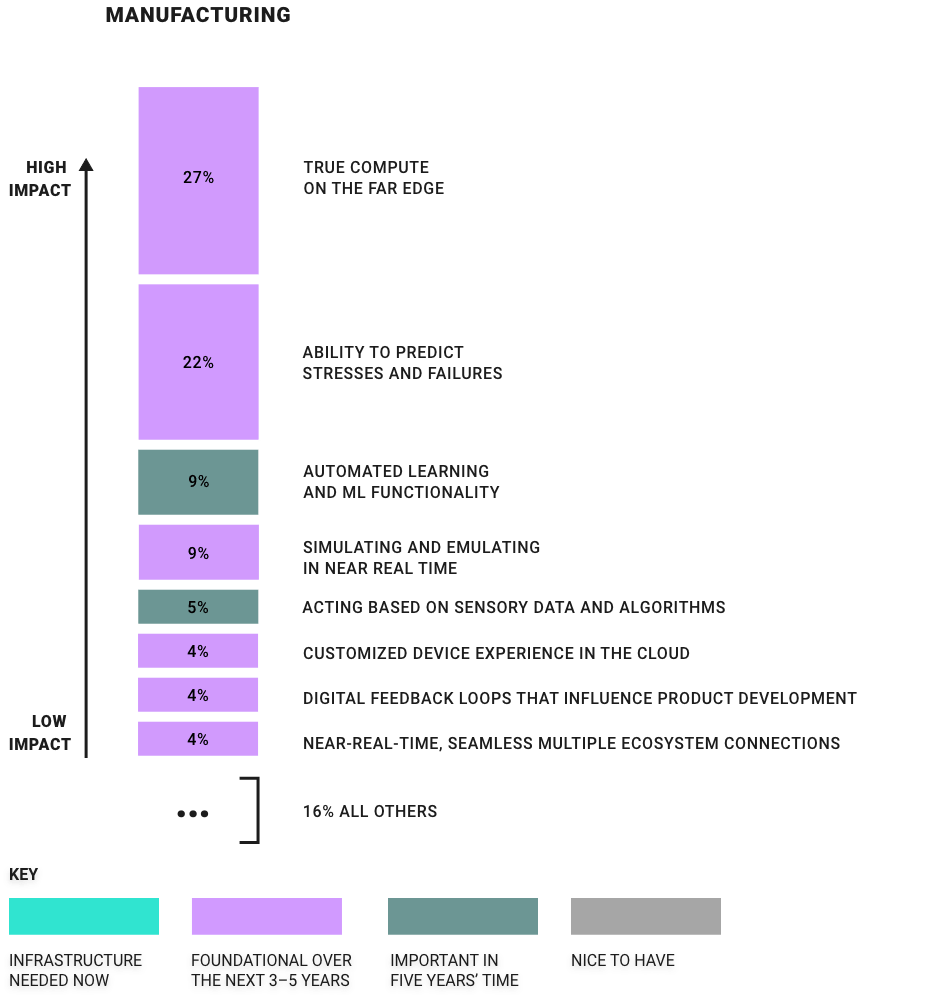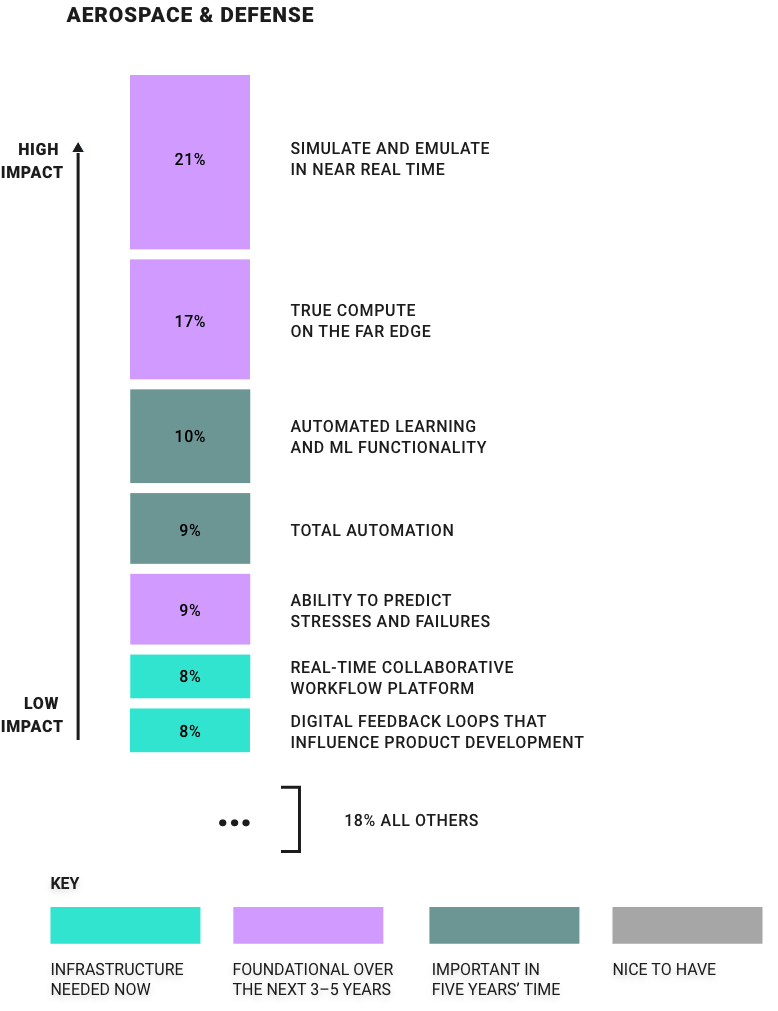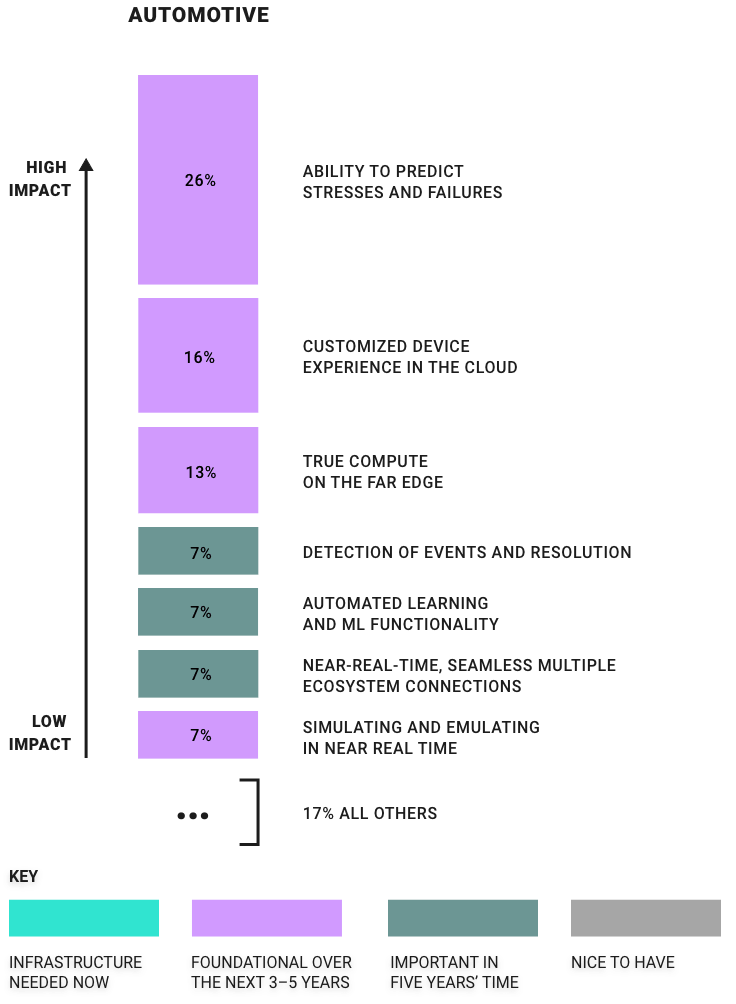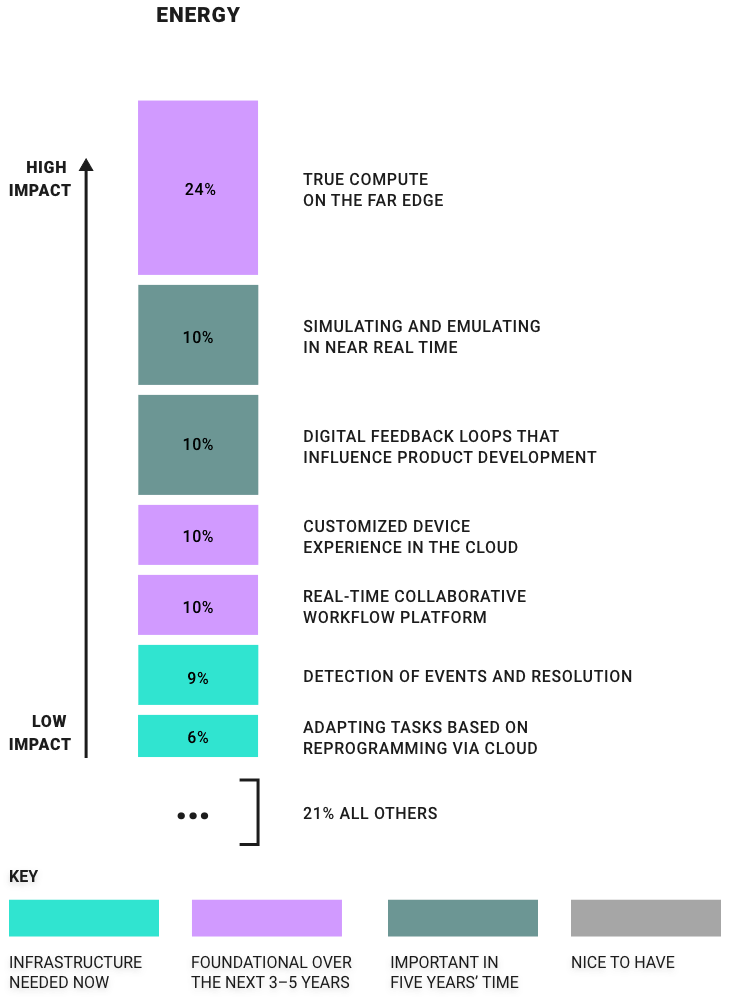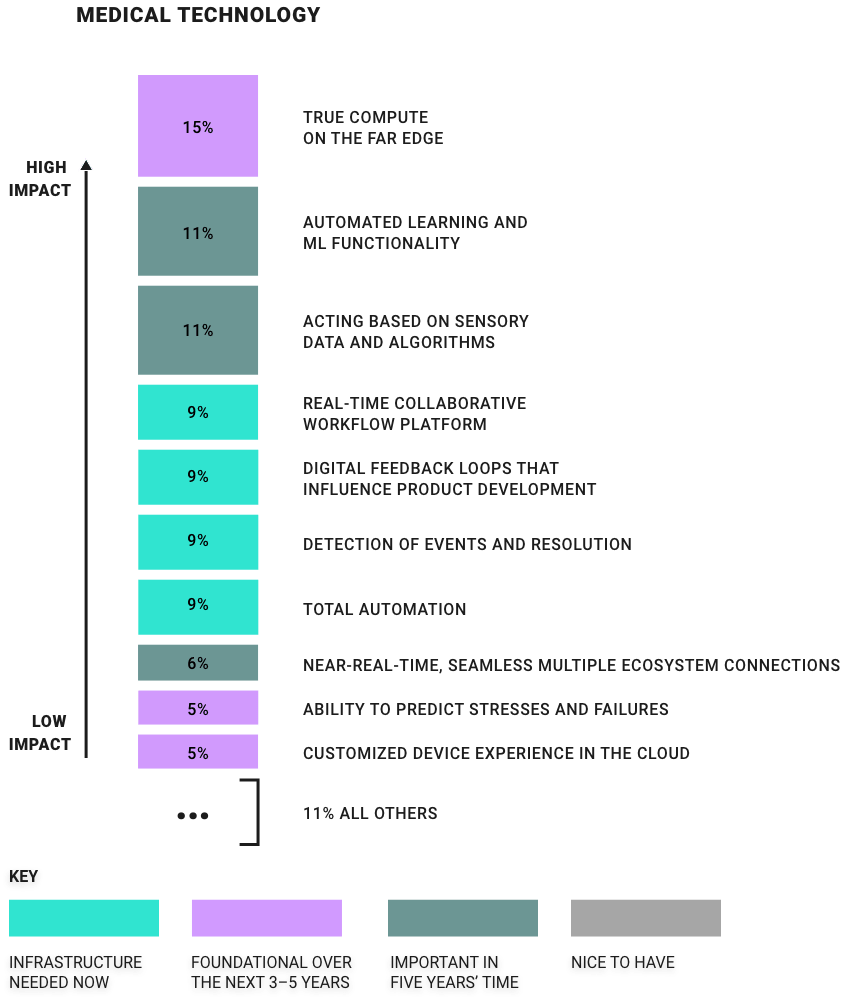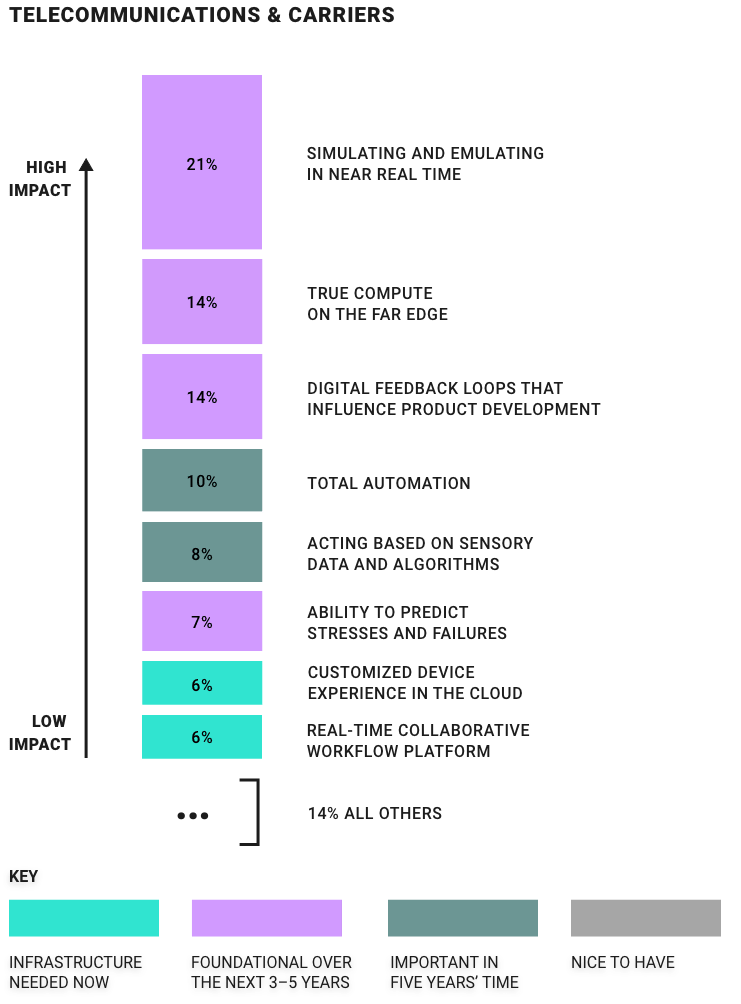 Source: Characteristics of an Intelligent Systems Future, Forbes, 2021
Explore Wind River Studio
Wind River® Studio is the first cloud-native platform for the development, deployment, operations, and servicing of mission-critical intelligent systems.
Explore Now
Three Facts About Intelligent Systems in the Manufacturing Sector
45%
of respondents told us the number-one barrier to expansion of intelligent systems is lack of the skills needed to make them a more common approach.
#1
The most important shift for these companies over the next five years will be moving more decision-making computing to the far edge of the cloud.
MISSION CRITICAL
A majority (66%) of these companies believe that their embedded products and solutions must be capable of computing in near-latency-free real time for mission-critical success in applications or business outcomes.
Characteristics of Intelligent Systems Success in Manufacturing
Knowing when to invest in each characteristic requires a blueprint for building critical infrastructure, delivering core foundational needs, and much more.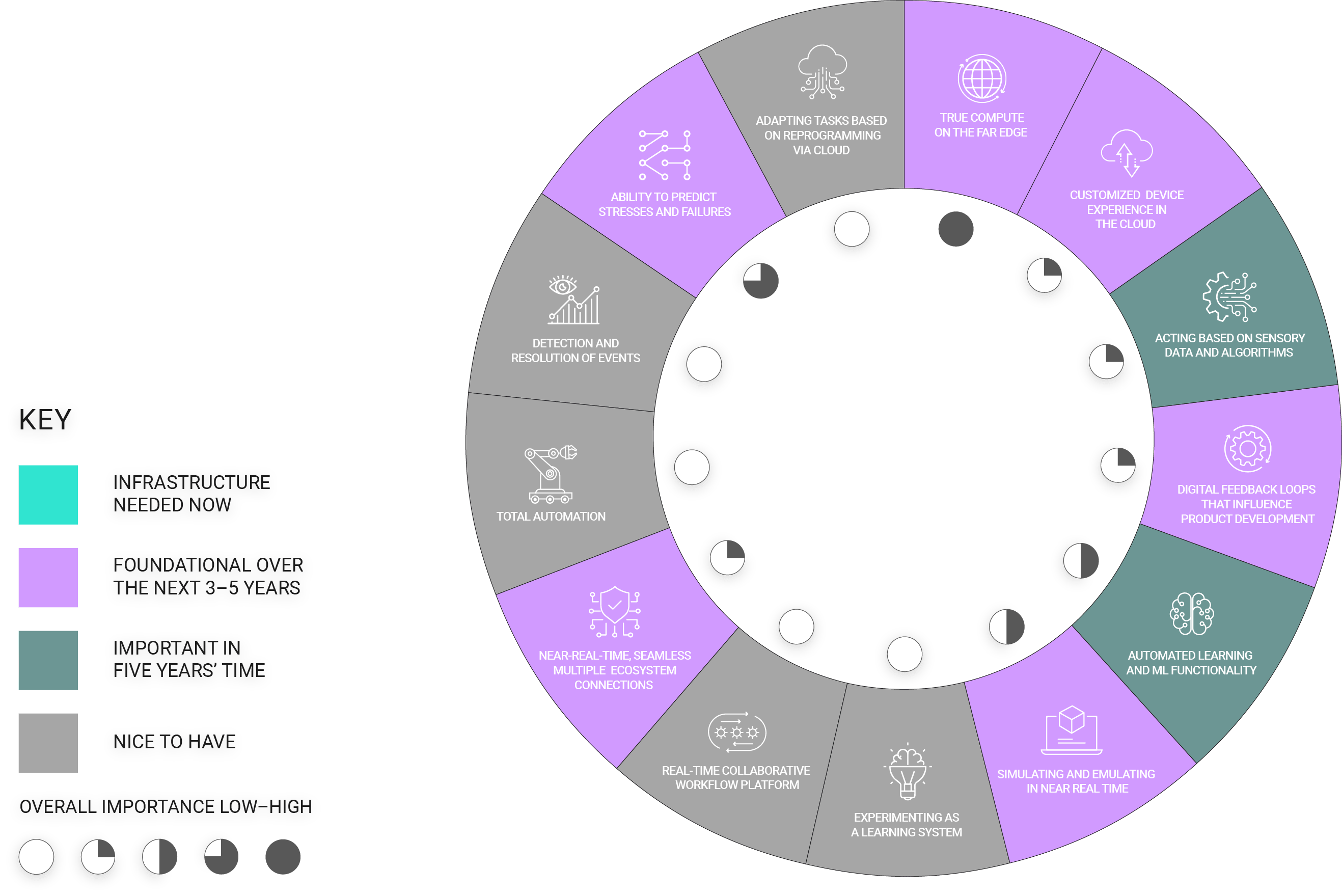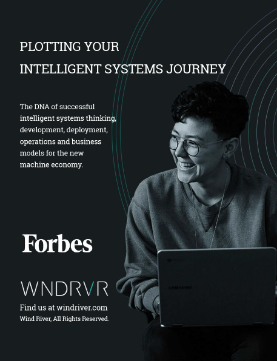 Plot Your Intelligent Systems Journey in the Manufacturing Sector
Download "Plotting Your intelligent Systems Journey," a free 30-page report developed in partnership by Wind River and Forbes.
Our research is based on more than 200 points of comparison across companies building and deploying intelligent systems.
>>

Download the report now
This report shows:
How your peers are thinking about the barriers to and drivers for adoption of intelligent systems
What factors would accelerate the adoption of intelligent systems in your sector
The relative importance of all intelligent systems characteristics, to help you prioritize your investments
How your peers see the roles and importance of 5G, AI, ML, and cybersecurity in their decision-making
The key components for the mission-critical success of intelligent systems
What the future of embedded devices and solutions looks like in an intelligent systems world
Where digital feedback loops are crucial for success
What the key metrics for success are
Where your peers see extensive value for intelligent systems in addressing wider societal issues