How Safe Are You?
Do you think your Linux devices are invulnerable? Or have security vulnerabilities already swamped your team and left you in the middle of a patch feeding frenzy?

The reality is that your devices are susceptible to security vulnerabilities. And they're very likely becoming more vulnerable with every reported exploit.
Reported Vulnerabilities since launch in 1997*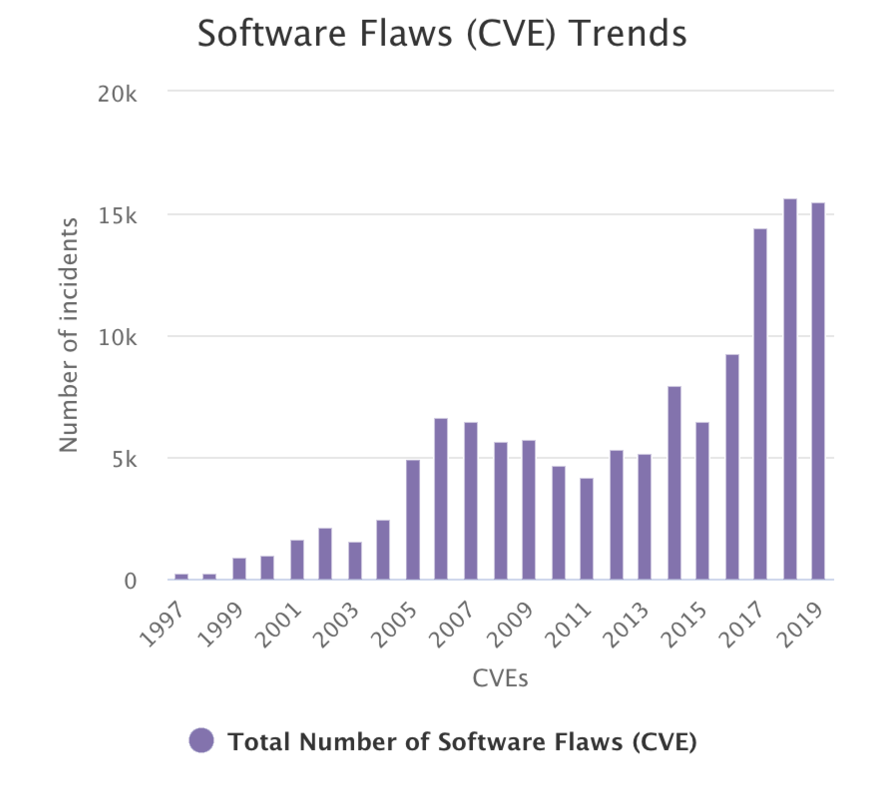 See How Your Devices Are Coping
Now, as the number of exploitable software vulnerabilities continues to grow, find out what awaits your devices.
When did you deploy your devices in the field?
What's Coming Next?
How many vulnerabilities have your devices been exposed to? Use our tool to check on them.
How much longer will your devices be in the field?
Secure Throughout the Lifecycle with Wind River
With Wind River Linux and Wind River Studio Linux Services, you can rest easy knowing that the Wind River security team is constantly monitoring the Common Vulnerabilities and Exposures (CVE) database at cve.mitre.org for potential issues affecting Wind River Linux.

Our security team is monitoring specific security notifications from US Government agencies and organizations like NIST, US CERT, and also public and private security mailing lists, and receives email alerts from each of these organizations whenever a new security threat arises. Alerts include both community-confirmed and potential vulnerabilities—we look into all of them. Participation in these forums gives Wind River the opportunity to create patches for vulnerabilities even before the community publicly announces the vulnerability.
Monitoring
All the kernel features, user packages, and Linux tools, which are supported in the standard Wind River Linux distributions, are monitored for security vulnerabilities against the incoming reports.
Assessment
When Wind River is notified of a potential vulnerability by one of the monitored advisory groups, we first determine whether any supported Wind River product is actually susceptible to the vulnerability.
Notification
Once the assessment phase is complete, we notify customers of the level of susceptibility.
Remediation
Less severe vulnerability patches are delivered via the monthly product updates.
*Statistics updated regularly based on the National Vulnerability Database repository.

**Statistics updated regularly based on the Wind River Linux fixes repository.

DISCLAIMER: The Linux security calculator is intended to provide an example of your potential security vulnerabilities and fixes based on your input, and is provided "as is." The results presented by this calculator are hypothetical and may not reflect the actual data relating to vulnerabilities and security fixes as applied to your devices. Wind River makes no representations or warranties regarding the use, validity, or accuracy of the results of the calculator and expressly disclaims any warranties and representations. Wind River will not be liable or responsible for any damages of any kind, including, without limitation, damages arising out of any information, representations, interpretations, technical errors, or omissions contained in the Linux security calculator, or otherwise arising out of or related to your use of this tool, this website, or any linked websites.