Intelligent systems research
AEROSPACE AND DEFENSE
The aerospace and defense sector has the highest urgent focus on building the most complete intelligent systems now.

Intelligent systems success in the aerospace and defense sector requires the most advanced design needs compared to other major industries.
The Need to Act
The aerospace and defense sector has a unique blend of intelligent systems characteristics, whereby nine of the key characteristics are seen as essential foundational and infrastructure needs in the next three years. (In contrast, in the automotive sector only four characteristics have a similar level of immediate impact for success.) 71% of the impact value of intelligent systems will be created in that time frame.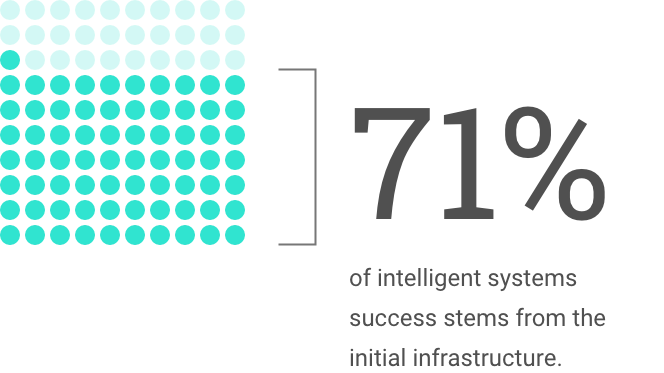 CB Insights states, "In the aerospace and defense industry, supporting software has to make quick decisions in high-risk scenarios. Artificial intelligence is becoming integral to the $8.7T space as companies and government agencies explore using technologies from robotics and autonomous systems to cybersecurity and telecommunication for national security."1 These are just small parts of an intelligent systems world functioning in near real time with mission-critical and cybersecurity as fundamental, invariably on the far edge.
True compute on the far edge and the ability to emulate and simulate in real time are the two most important characteristics for intelligent systems success in aerospace and defense. The inherent complexity and volume of mission-critical capabilities mean there are unique needs to have systems compute, sense, and connect in near real time.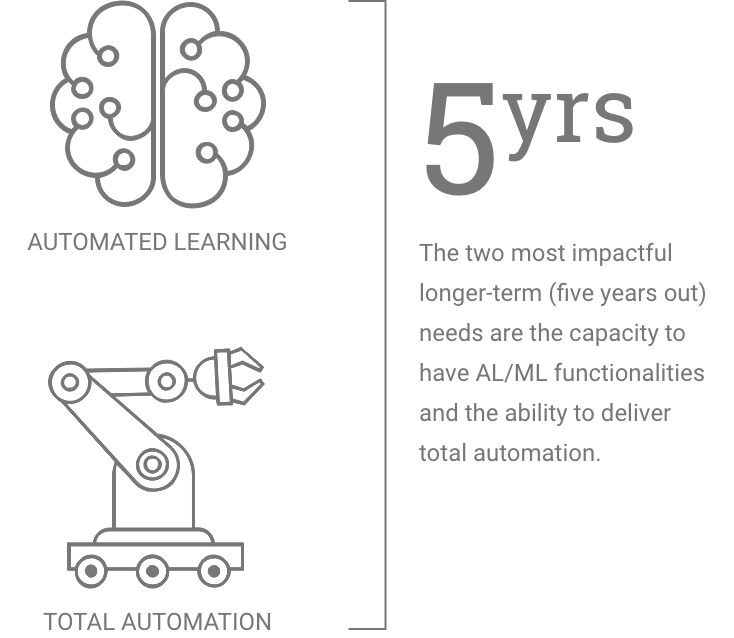 The key characteristics needed now are the ability to synthesize workflows with one process for all parties involved and the use of tools such as digital feedback loops in new product and service development. This illustrates the importance of bringing people, data, and new collaborative work processes to the forefront in these organizations' intelligent systems. Ideas such as Air Force Platform One are based on the concept of the constant development, deployment, and operation of complex systems responding in near real time to digital feedback loops. Commercial aviation companies equally understand this need, as they look to bring vast arrays of near real-time data into business operations to benefit customers and improve product and service delivery and development.
The two most impactful needs for five years from now are the capacity to benefit from automated learning and machine learning and the ability to deliver total automation. The AL/ML characteristic, considered the more important of the two, can only occur after eight other characteristics have been developed and delivered.
Aerospace and defense have the highest urgent
focus on building the most complete intelligent systems now.
There is an underlying paradox that leaders need to resolve. 86% of the companies that see themselves as A&D industry leaders believe that half or more of their embedded products and services will be designed for use on the far edge. Still, only 14% are both committed to and succeeding at implementing the needed intelligent systems characteristics.

To see the future as heavily focused on computing on the far edge and to have only 14% reporting success in doing so now means that most of these companies still have not implemented the necessary components of intelligent systems success to deliver on their own vision of an intelligent systems future.
Sequencing for the A&D sector starts with building capabilities for true, mission-critical compute on the edge; a real-time workflow platform for people, applications, and operational capabilities; and real-time digital feedback loops for developing products and services. All this must combine with the ability to customize devices on the cloud and simulate and emulate possible outcomes in near real time.
What really matters to executives building intelligent systems?
While there are 13 key characteristics of intelligent systems, not all characteristics deliver the same positive impact. Your peers across all sectors told us the far edge is vital for success, especially when 65%+ rely on embedded devices for business success.

These stacks represent the magnitude of impact each intelligent systems characteristic has on such systems. The larger the block, the greater the impact. You can view this data for companies grouped by momentum and success, or by specific industry.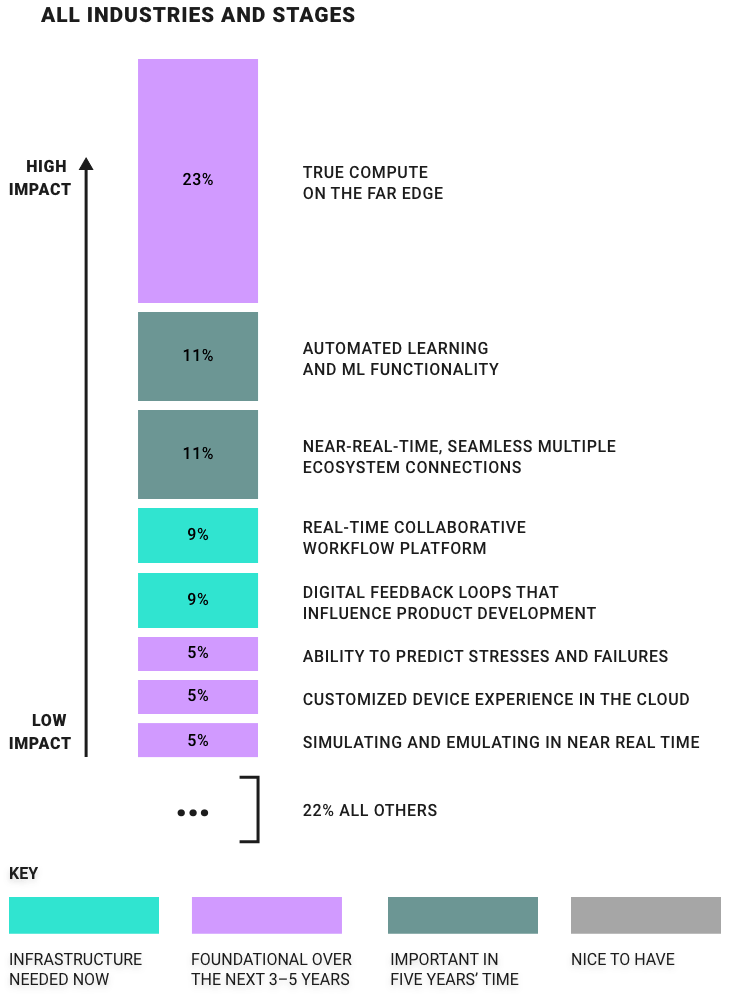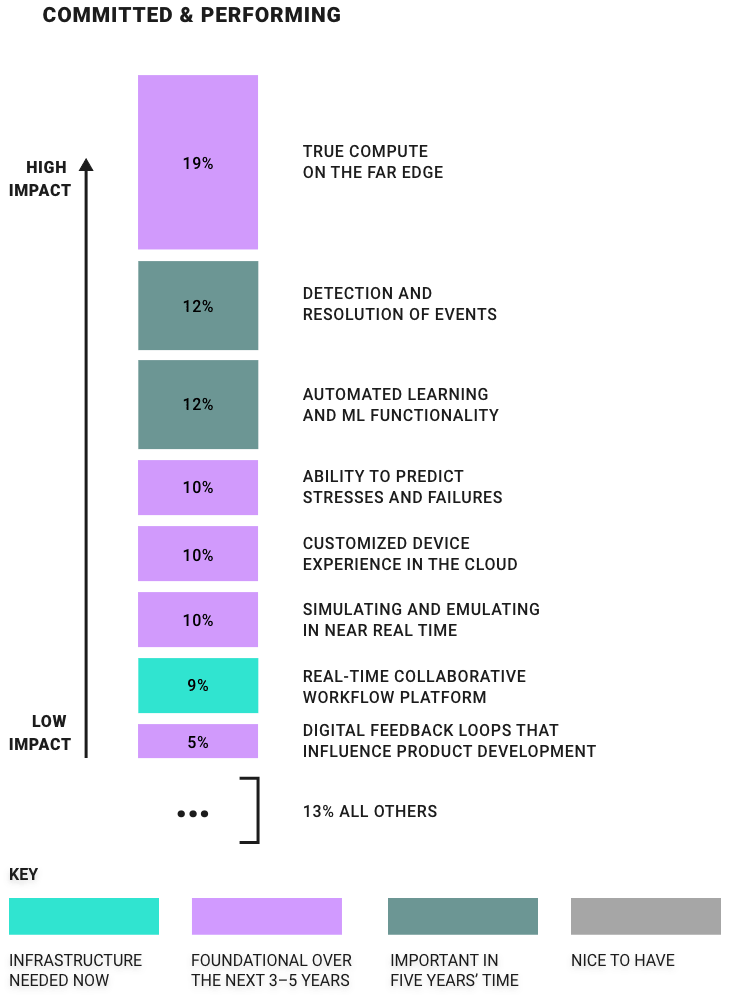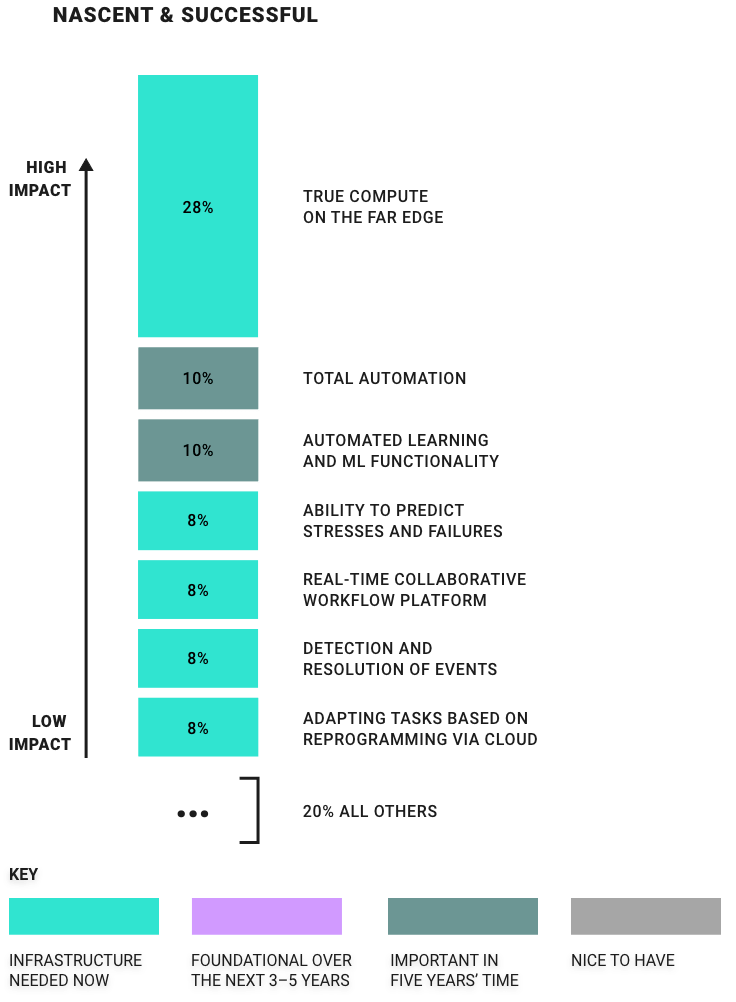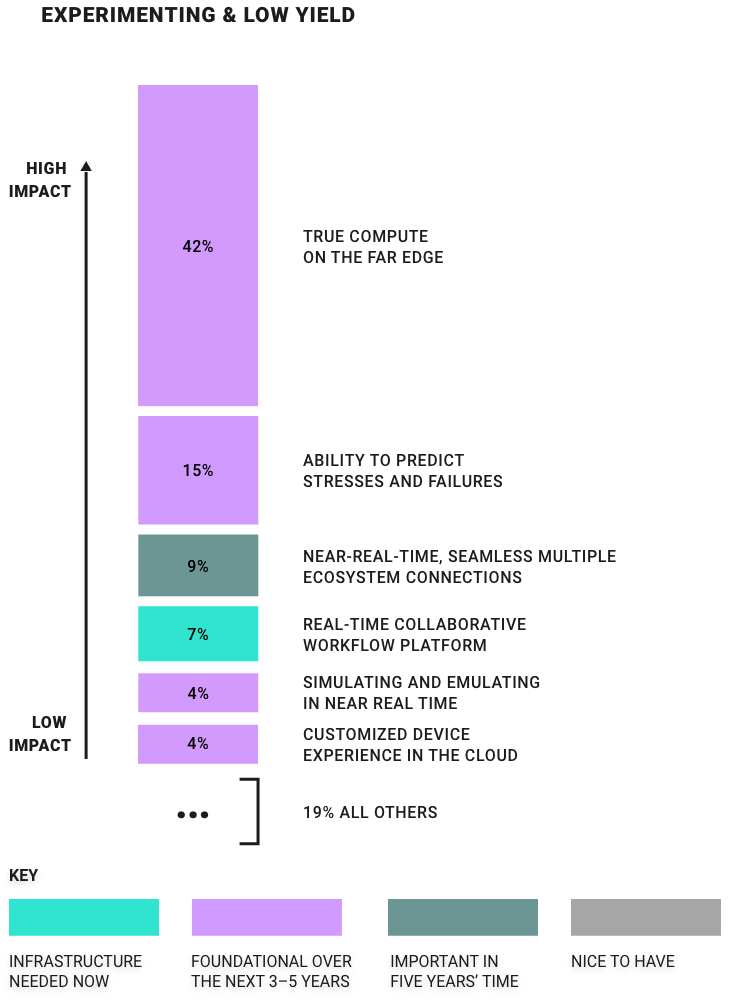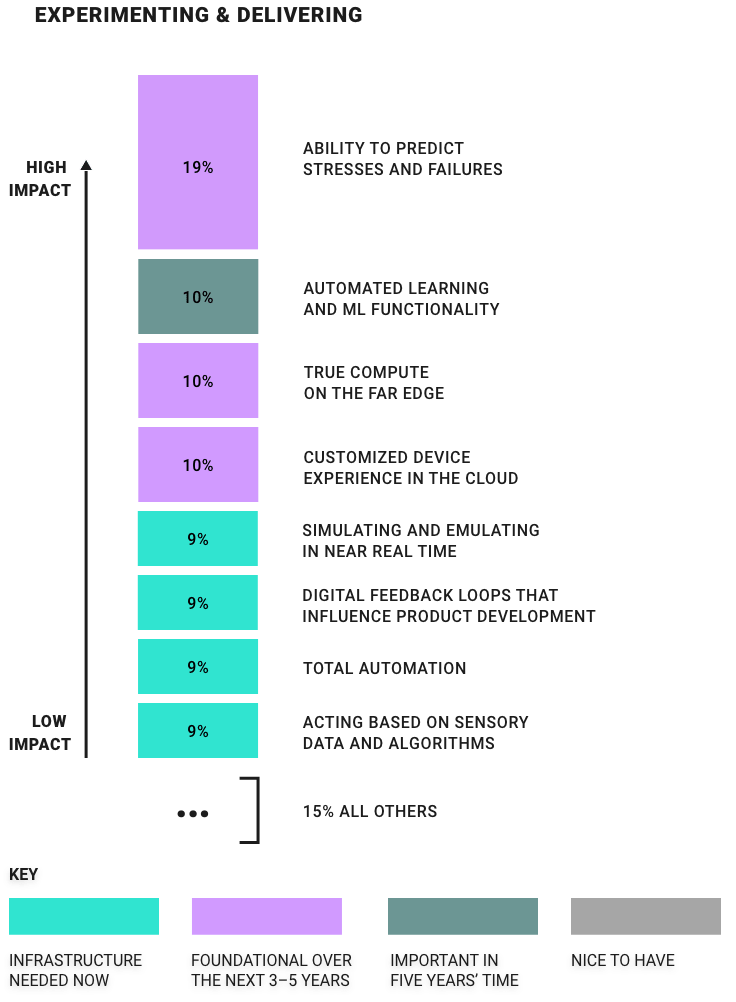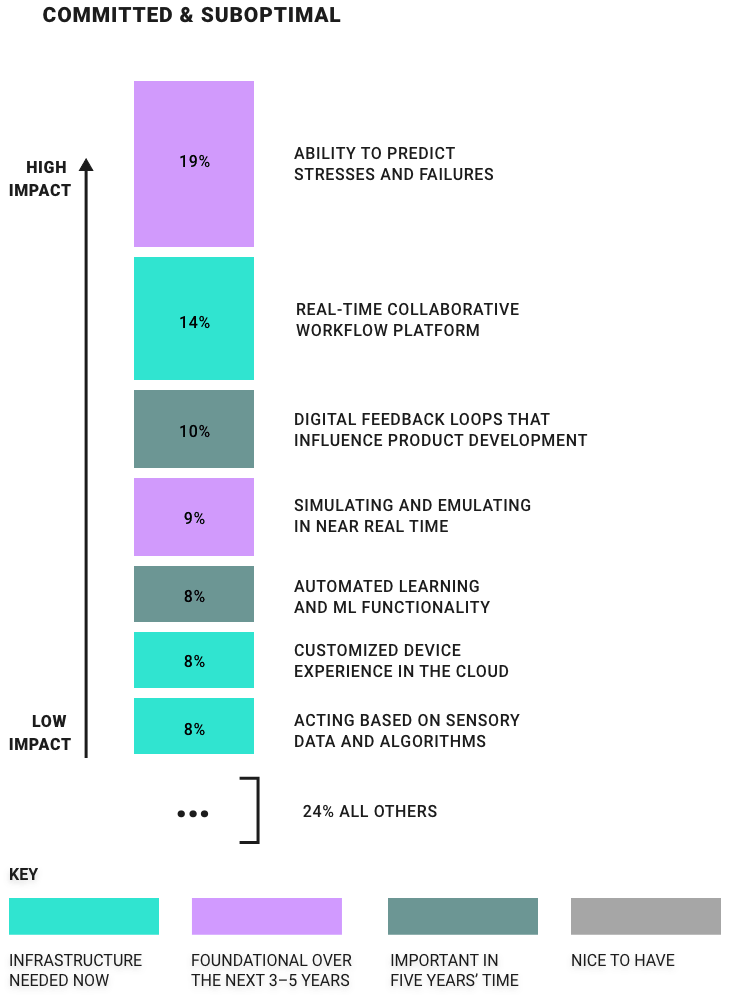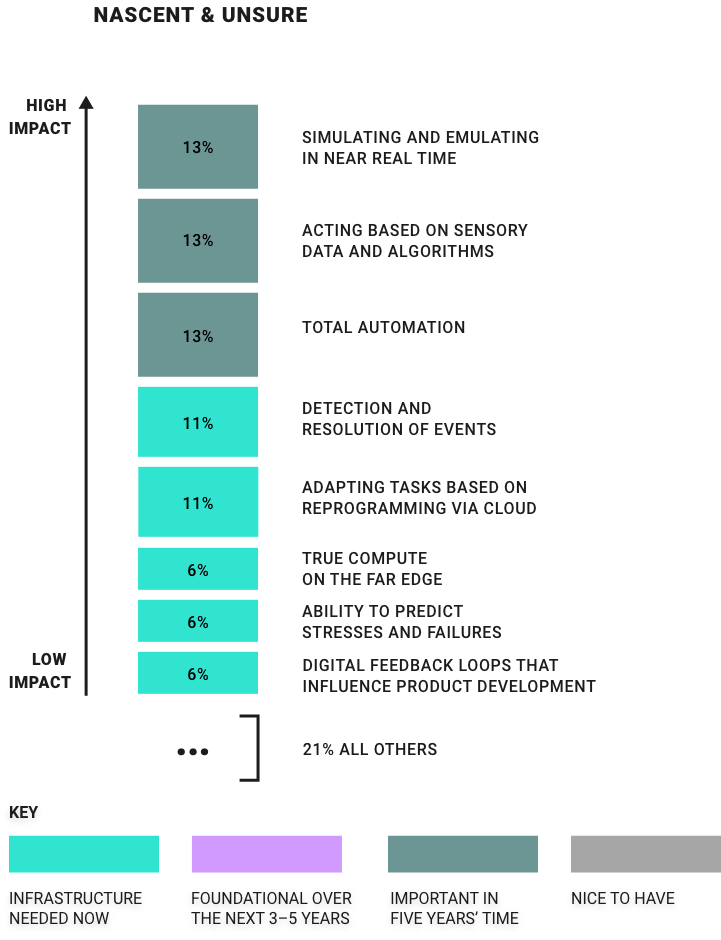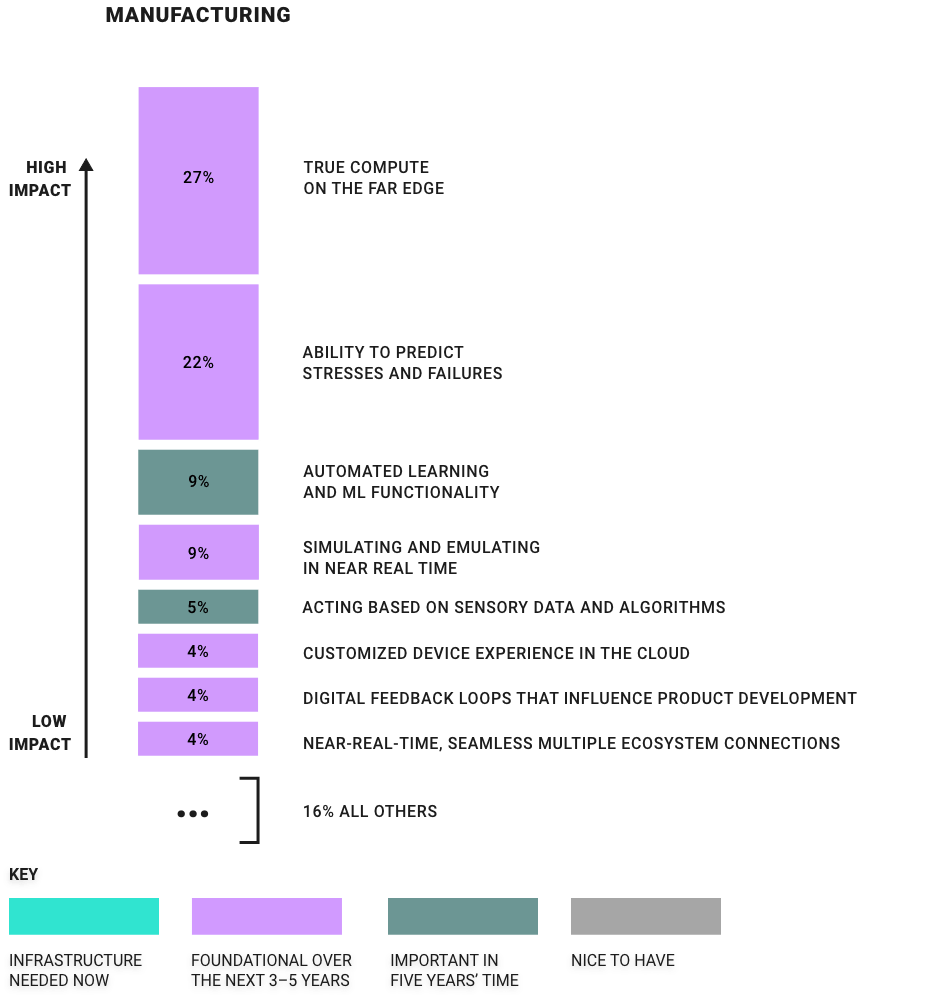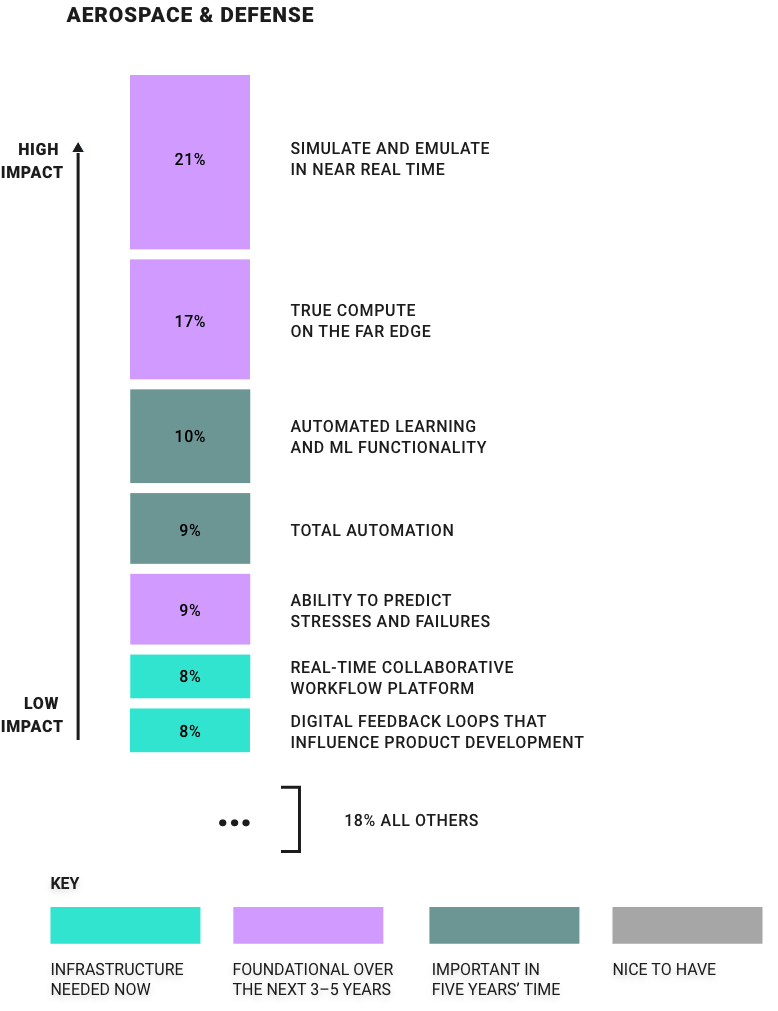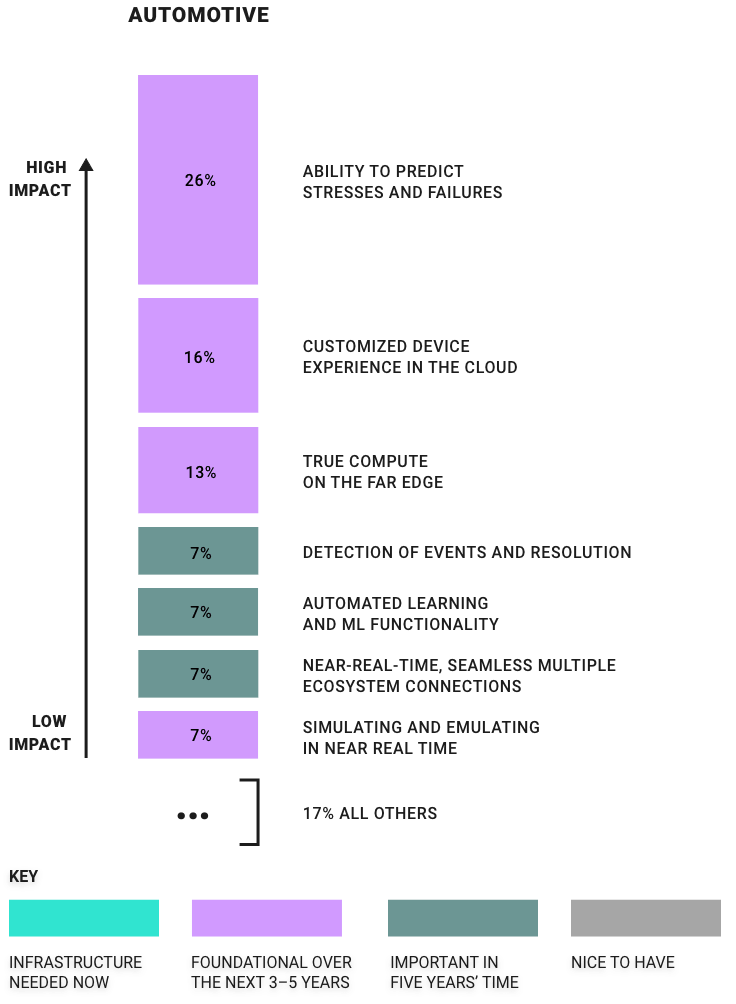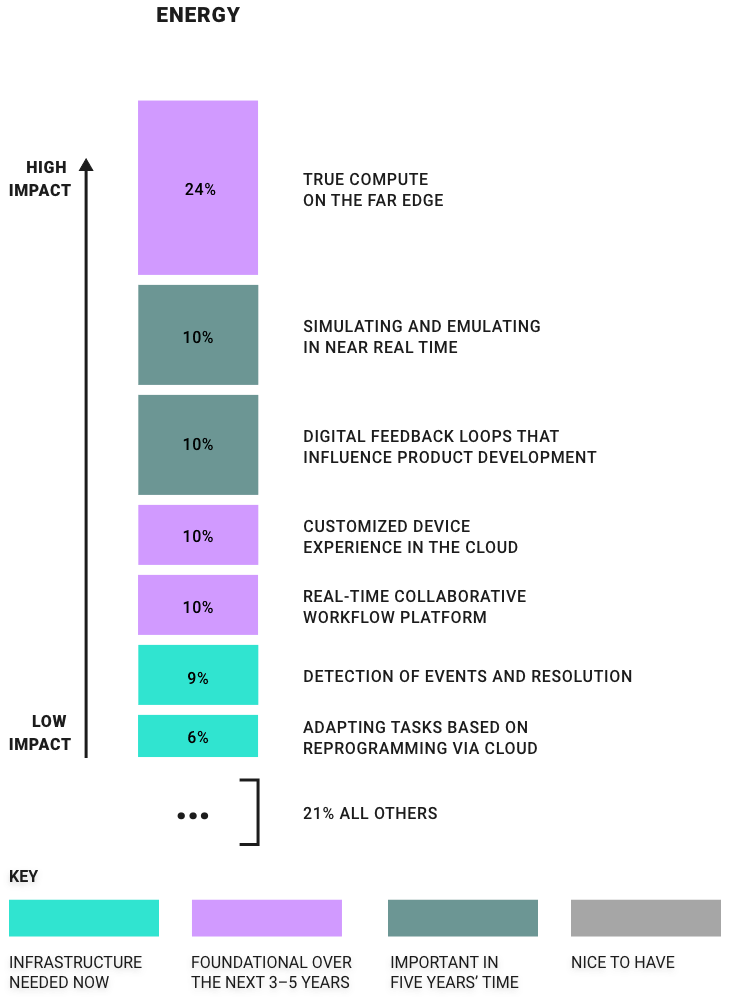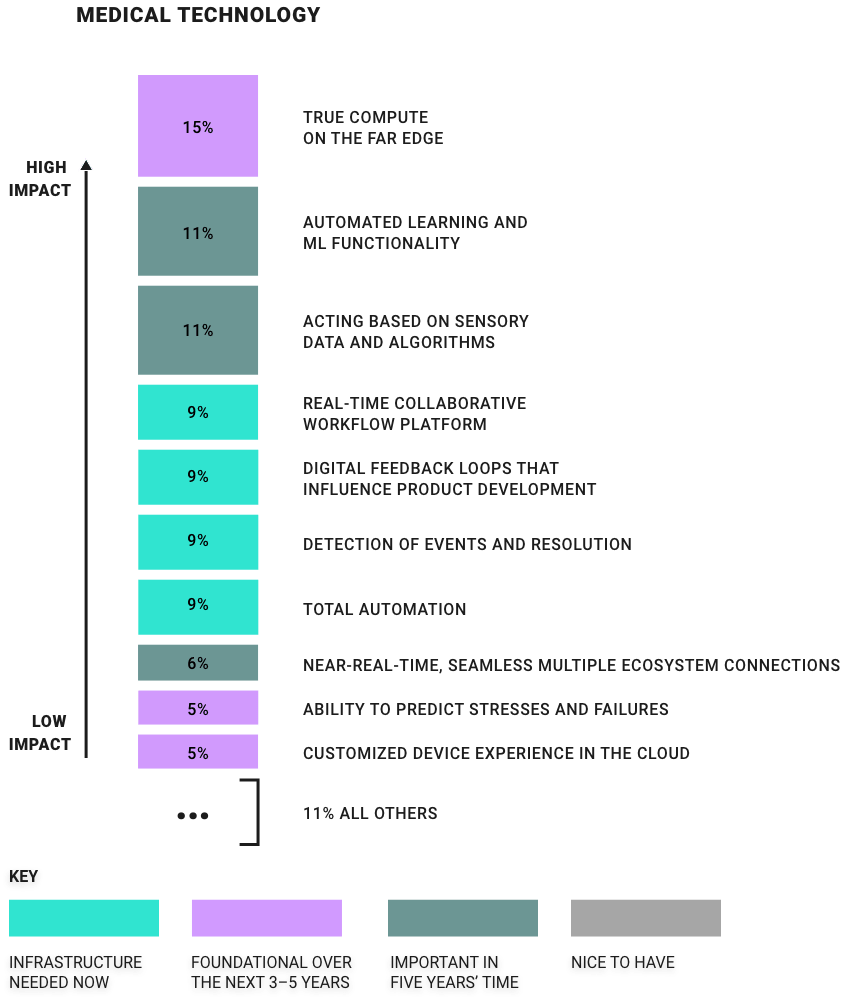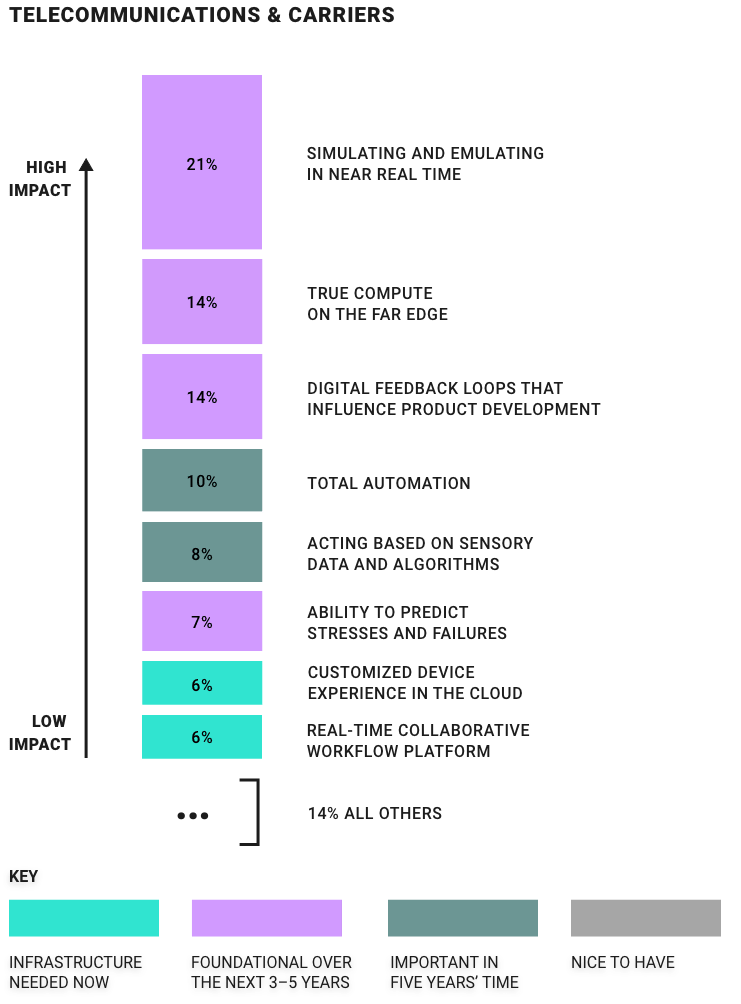 Source: Characteristics of an Intelligent Systems Future, Forbes, 2021
Explore Wind River Studio
Wind River® Studio is the first cloud-native platform for the development, deployment, operations, and servicing of mission-critical intelligent systems.
Explore Now
Three Facts About Intelligent Systems in the Aerospace and Defense Sectors
55%
of leaders, when asked what would accelerate investment, named evidence of improved employee satisfaction.
37%
believe that underlying technology needs, such as 5G for the intelligent edge, are not appropriately deployed or likely to be available to their industry within the next five years.
59%
believe that ROI will outweigh the level of effort needed.
Characteristics of Intelligent Systems Success in the Aerospace and Defense Sector
Knowing when to invest in each characteristic requires a blueprint for building critical infrastructure, delivering core foundational needs, and much more.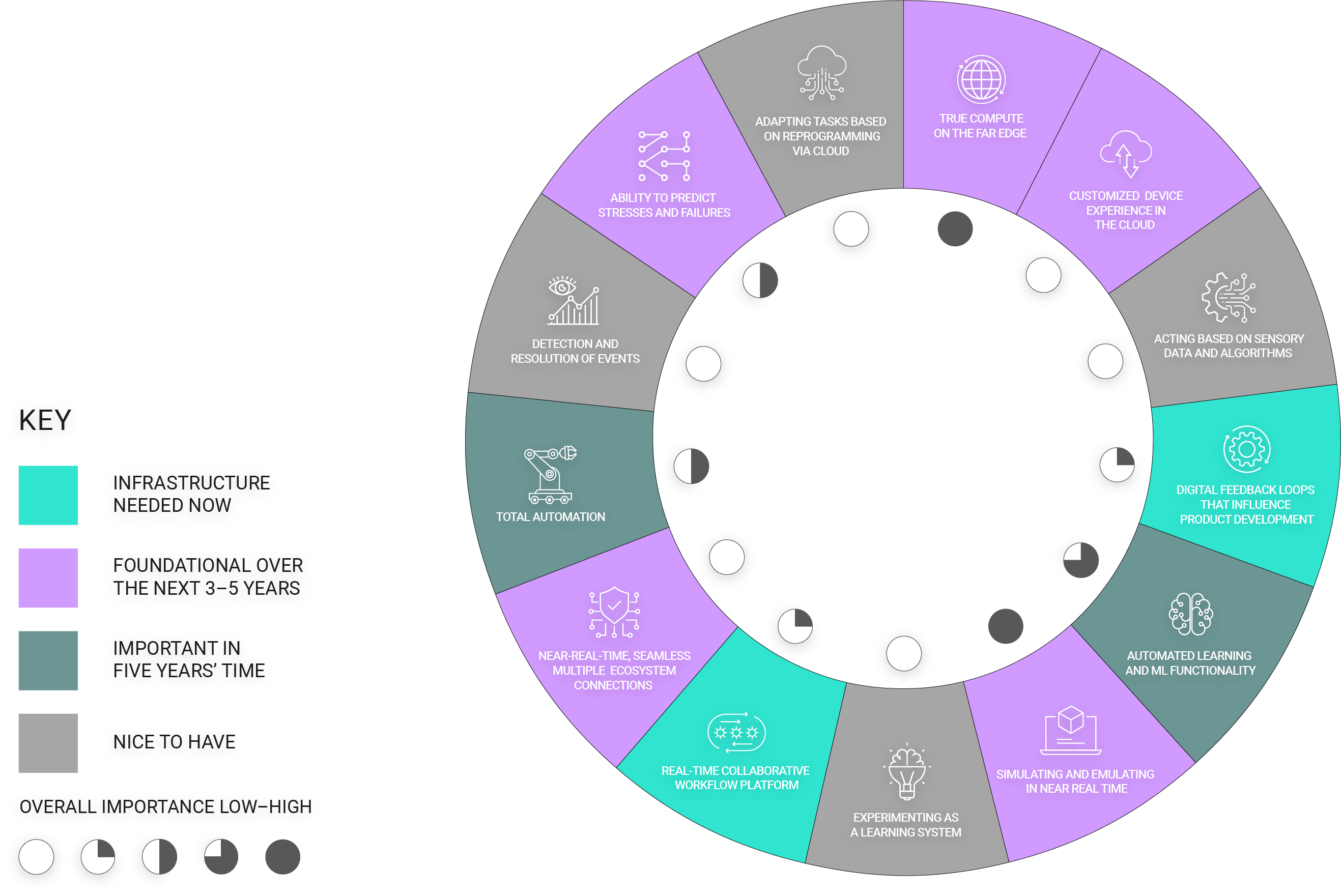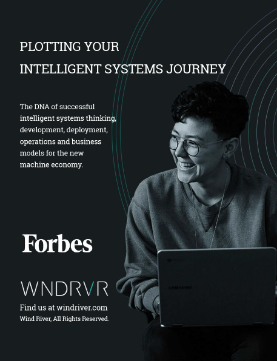 Plot Your Intelligent Systems Journey in the Aerospace & Defense Sector
Download "Plotting Your intelligent Systems Journey," a free 30-page report developed in partnership by Wind River and Forbes.
Our research is based on more than 200 points of comparison across companies building and deploying intelligent systems.
>>

Download the report now
This report shows:
How your peers are thinking about the barriers to and drivers for adoption of intelligent systems
What factors would accelerate the adoption of intelligent systems in your sector
The relative importance of all intelligent systems characteristics, to help you prioritize your investments
How your peers see the roles and importance of 5G, AI, ML, and cybersecurity in their decision-making
The key components for the mission-critical success of intelligent systems
What the future of embedded devices and solutions looks like in an intelligent systems world
Where digital feedback loops are crucial for success
What the key metrics for success are
Where your peers see extensive value for intelligent systems in addressing wider societal issues