In order to provide consistent, high-quality technical support for all our products, we will start supporting Wind River® Security Suite (Titanium Security Suite, Crucible and TrueBoot) customers using the Wind River customer portal (via Salesforce) at https://windriver.force.com/support. The Wind River customer portal should only be used to receive standard product support from Wind River Systems.
Starting January 20, 2021, users should access the Wind River customer portal to log support cases for Wind River® Security Suite. You will be receiving a Wind River license number and LAC, which are required to register for the Wind River customer portal.
Users can register at https://wrsn.windriver.com/accounts/faces/userRegistration.
As soon as users receive a Wind River license number and LAC, we highly recommend that they register, log in to the Wind River customer portal, and create a test support case to complete this step and avoid any disruption or delay. Please select WR Security under Product Group.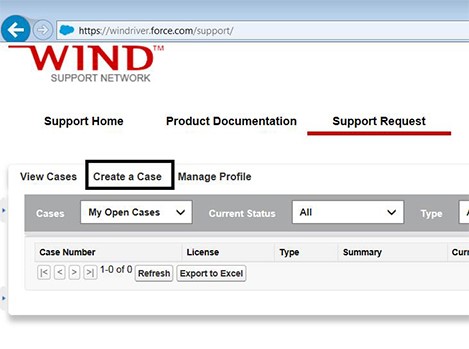 The Wind River customer portal is not an approved platform for any Controlled Defense Information (CDI), including ITAR. Please do not provide or attach to support cases any technical data or documents that are subject to the U.S. ITAR or other export restrictions, or any other material subject to restrictions that limit access to only U.S. persons or to persons who are citizens or permanent residents of any specific country (countries). CDI/ITAR data can only be handled after a Project Technology Control Plan (PTCP) is put in place and only through the process outlined in the PTCP.
Support cases in the Wind River customer portal are visible to all users on the customer side who are registered under the same license number that is used to log the support case and to eligible* Wind River employees. If you have any special requirements for handling data in your support cases, please contact us before submitting the case and posting the data in the support case.
The Wind River Customer Support Organization is comprised of a global team of professional customer service engineers. Wind River Security product (former Star Lab product) support cases, originating through the Wind River customer portal, will be directed to designated queues with eligible support team member access only. Support cases originating through other support channels will be initially triaged by the global team before routing to the designated queues. Other support channels include email to support@windriver.com, live chat from windriver.com, phone calls to the general support line, and the web form.
We are committed to providing world-class technical support to our customers and will make every effort to make this transition as smooth as possible, but if you have any questions or concerns, please contact us.
*Eligibility may change from country to country. U.S.-based customers' support cases will be handled by Wind River employees who are 'U.S. Persons.'