ALAMEDA, CA — Oct. 17, 2023 — Wind River®, a global leader in delivering software for mission-critical intelligent systems, today announced that RIVERFIELD Inc., is using VxWorks® to develop the Saroa Surgical System, a surgical assist robot.
"Riverfield is an incredible pioneer with the Saroa Surgical System and its sense-of-force capability," said Avijit Sinha, chief product officer, Wind River. "We are excited to have VxWorks help Riverfield develop high-performance robotic systems that will improve surgical precision and safety."
"Riverfield is dedicated to solving social issues through the power of robotics," said Kotaro Tadano, CEO, RIVERFIELD Inc. "Surgical procedures in which human lives are at stake demand extreme precision. VxWorks has an extensive track record in the field of medical devices that require a high level of control and real-time performance. It is essential to us to work with reliable, proven solutions."
Riverfield is a robotics research and development company with a strong focus on medical devices. The Saroa Surgical System is the world's first surgical assist robot that successfully reproduces the sense-of-force tactile sensation using pneumatic pressure when driving its robotic forceps. The precision control technology of the pneumatic system realizes a sense of force that is essential for precise surgical procedures, such as gripping, grasping, and pulling.
Unlike conventional surgical robots that lack the sense-of-force capability, the Saroa Surgical System allows the doctor operating the robot to feel as though he or she is operating directly with his or her own hands. This can improve the precision of delicate maneuvers during surgery.
Pneumatic systems provide the advantage of being cost-effective, as they can provide force feedback without requiring a force sensor. However, they are typically complex, with many components, and they are difficult to control. Riverfield selected VxWorks as its real-time OS because it combines fast response performance, high reliability, and high safety, all of which are critical requirements for surgery. With VxWorks, Riverfield can conduct real-time processing with consistent sub-microsecond response time. This allows control of pneumatic forces and other applications that are required at high speed and with high precision.
VxWorks is the industry's most trusted and widely deployed real-time operating system (RTOS) for mission-critical embedded systems that must be secure and safe. It delivers a proven, real-time, and deterministic runtime combined with a modern approach to development.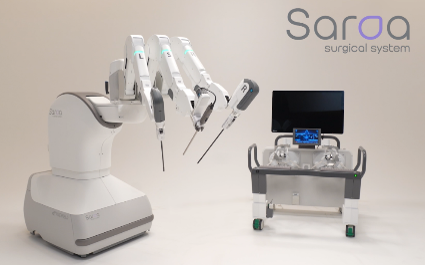 About Wind River
Wind River is a global leader in delivering software for mission-critical intelligent systems. For more than four decades, the company has been an innovator and pioneer, powering billions of devices and systems that require the highest levels of security, safety, and reliability. Wind River software and expertise are accelerating digital transformation across industries, including automotive, aerospace, defense, industrial, medical, and telecommunications. The company offers a comprehensive portfolio supported by world-class global professional services and support and a broad partner ecosystem. To learn more, visit Wind River at www.windriver.com.
# # #